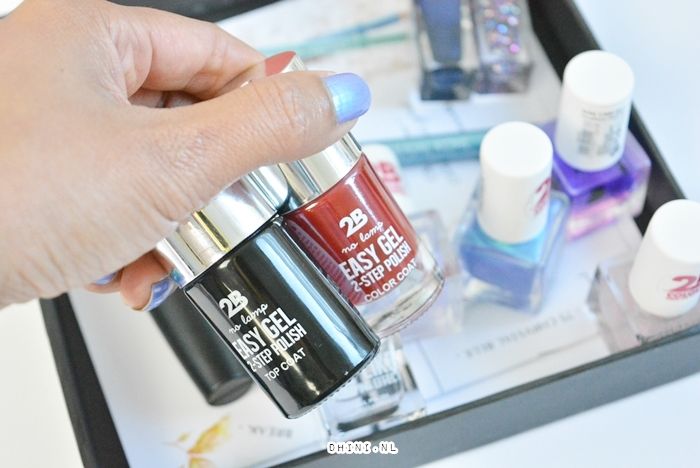 Vandaag de laatste product van de nieuwe 2B Cosmetics die ik ga voor jullie swatches/reviewen. 2B Cosmetics lanceert een nieuwe generatie gel nagellakken met formule zonder LED-/UV lamp nodig. Aah gelukkig want ik heb geen speciaal lampje voor Gel nagellak. Het is maar in slechts twee stappen : een nagelak en een gel topcoat, dat is toch easy om thuis zelf te doen. Zijn jullie benieuwd naar? kijk dan snel verder

2B Cosmetics belooft dat de nagellak 7 dagen lang mooi blijft zonder te moeten retoucheren. Ik ben benieuwd naar. Ik volg 2B Cosmetics gebruiksaanwijzingen – Eerst de nagel goed schoon dan zonder base coat breng je een 2B easy gel nagellak een laagje aan, wacht 2 minuten dan breng de tweede laagje aan. Weer 2 minuten wachten. Daarna breng een dun laagje 2B Easy gel top coat aan. ongeveer 10 minuten is de nagellak klaar!
Je hebt maar dus 14 minuten om gel nagellak aan te brengen. Ik heb geen idee/ervaring hoelang bij het salon om gel nagellak te laten doen. Eerst was ik verrast toen ik gebruiksaanwijzing las dat Easy gel nagellak zonder base coat gebruikt (niet gewend natuurlijk). Hieronder de swatches van eerste dag en op instagram liet ik dag vier zien. en eigenlijk heb ik dag 8 op foto gemaakt maar niet op instagram geplaatst, wel hieronder laat ik aan jullie zien.


Dag 1


Dag 1 – het zag er nog perfect uit
Dag 4 – Als je goed kunt zien, zie je bij de randje de nagellak een beetje weg maar hé…ik gebruik veel met handen dit dat te doen.
Dag 8 – Duidelijk te zien de beschadig nagellak (te chippen) langs de randjes.
2B Cosmetics Easy Gel nagellak vind ik wel best prima in 4/5 dagen mooi zitten. Bij mij dag 4 de nagellak begin een klein beetje te chippen langs de randjes maar niet storen om te zien. In dag 6/7 iets duidelijk bij de randje. Maar ik ben best zat 2-3 dagen dezelfde kleur. Ik moest dit echt geduld hebben tot 7 dagen deze nagellak te dragen. Voor als je op vakantie of weekendje weg is Gel nagellak zeker fijn om te dragen.
Ingredienten van alle 2B Cosmetics producten vind je hier.
2B Cosmetics Easy Gel 2-Step Polish (no lamp) zijn in 8 kleuren beschikbaar, het kost €4,95 per stuk, verkrijgbaar in Belgie bij Kruidvat, DI, Dreamland, Carrefour, Colruyt, Inno, Lediscount, Cora en Suprabazar of kan je terecht op 2B webshop makeuptouch.eu en 2B.eu

Fijne dag en geniet ervan!
Dhini
Dit artikel bevat product(en) die ik heb ontvangen van een merk, PR of bedrijf.