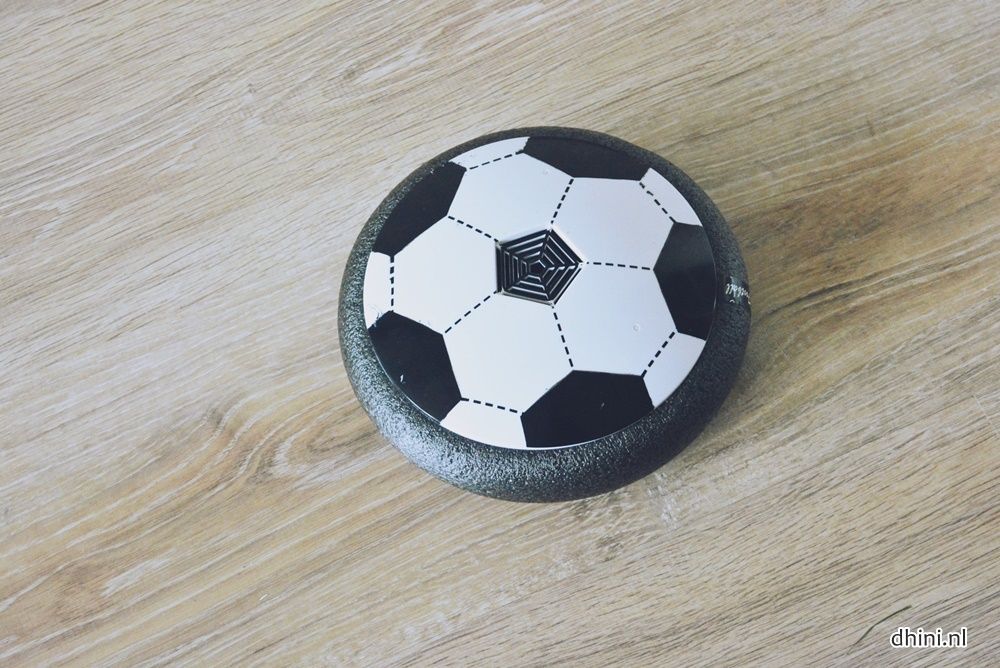 Kinderen vinden het leuk om te spellen. Het maakt niet uit waar..buiten of binnen. Maar als het weer slecht/regen is, speel de kid toch lekker gewoon binnen. Wij testen een plat voetbal. Ja..een plat bal, een soort disc. Een plat bal "Air Powered Soccer". Play like a pro!

Deze plat voetbal zit in een groen doosje zonder papier meegeleverd want de instructies is niet nodig. Jou kind kunt gelijk meespellen. Er zijn twee Air Powered Soccerd varianten : met led light en original. Wij testen de original.
Product :
– Werkt op 4 AA batterijen (niet meegeleverd)
– Geschikt voor binnen én buitengebruik
– Twee schakelaars: Lichten & zweven
– Gewicht: 786 g

De onderkant de bal is er knopje waarmee je aan-uit doen. Jammer dat wij de batterij zelf moeten regelen. Er zijn vier AA nodig maar zonder batterij kunt je hem gewoon meespellen. In deze original voetbal staat geen lampje aan. Dus voor ons batterij is niet nodig. Deze soccer disc hoeft je niet te rollen zoals gewone bal maar het zweeft over de vloer in één, vlotte beweging. Rond de disc zit namelijk een dikke, rubberen stootband om elke vorm van beschadiging tegen te gaan. Wat minder is, maakt het wel zachte geluidje, voor ons persoonlijk een beetje storen, gelukkig kan je de knopje uitdoen. De onderkant is vrij hard dus niet geschikt voor elke vloer waardoor maakt het niet fijn geluidje op de laminaat.

Als wij groot kamer genoeg en de vloer van tegels, is deze speelgoed leuk om mee te spellen. Als het weer mooi is, gaan wij met deze disc voetbal proberen te spellen. Zoek je nog een leuk cadeau voor Sinterklaas is deze disc misschien leuk voor jullie kids of cadeautje geven. Deze Original Air Powered Soccer kost €14,95 op Coolgift te bestellen.
Tip : Leuk als voor je zoon of neefje en of cadeautje geven. Want het is bijna Sinterklaas


Fijne dag en geniet ervan!
Dhini