Op dinsdag ontving ik myn verjaardagcadeaus van mij en voor mij 😀 Maar ik ga ze op my dag openen. Heb ik geduld? Ja, hoor!



Gisteren zijn ff naar Rotterdam Alexanderium geweest zonder Djess. Djess was lekker bij oma en opa. Na BV :baby: gingen wij richtig Winkelcentrum Alexanderium om daar verjaardagcadeaus voor mij te kopen en ook winterjas voor Djess. Djess heeft winterjas nodig dus ff snel naar Prenatal. Wij hebben een winterjasje voor Djess (met Prenatal cadeau van tante Jeannet, dank je wel :blowkiss: ). Er zijn heel leuke kleertjes voor Djess en you know…ik wil ze alles kopen :yes: maar toch niet want andere baby`s ook nodig 😀 (my droge grapje).
Daarna naar Mediamarkt voor myn verjaardagcadeaus (ja…meer dan 1 ding). Ik heb ze zelf ingepakt want myn plan ga ze op myn dag openen 😉
Deze myn verjaardagcadeus van myn lieve man en Djess (nog ingepakt door mij 😀 ) Dank jullie wel myn lieve mannen :muah: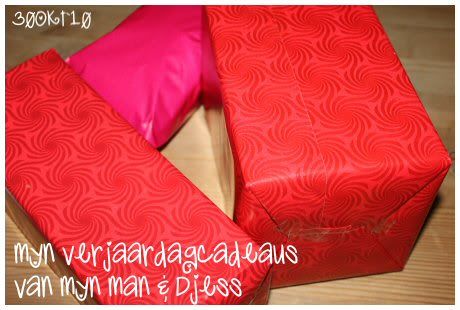 Daarna ff langs kruidvat want ik wil de drop dry top coat hebben. Kruidvat hier in de buurt kan ik niet die drydrop top coat vinden dus ik kochte gelijk 2 en 2 kajal oogschaduw van Catrice. ik dacht dat er korting 25% is maar nee..raar! ik zag op Catrice kasje 25% korting staan of misschien voor andere artikelen of moet meer producten kopen (geen idee)

Snel boodschapen deed daarna rred richting oma opa want wij misten Djess.
Dan auto wassen, het is echt nodig. Arjo wasde auto met o-pa en Djess, o-ma en ik ff lekker wandelden. niet zo bijzonder info he 😉 en daarna lekker mie goreng gegeten.
Heb ik geduld genoeg? Ja hoor! En jullie? Wait tot my bday komt 😀 als jullie nieuwsgierig
Ik heb foto van onze mini shoplog geplaats klik hier
Happy Hallooween! :boo: