Door Symone Donderdag 24.11.2016 was de officiële launch van de My Brand Platinum x Luis Suarez collectie in de My Brand store te Den Haag. Bij binnenkomst meteen te woord gestaan door het winkelpersoneel van de My Brand store onder het genot van een glaasje bubbels. De sfeer was goed en de service was geweldig, kon met al mijn vragen terecht bij het personeel. De manier waarop de collectie werd gepresenteerd met My Brand Models in de etalage, trok het publiek/ klanten ook erg aan .
De Collectie


De platinum collectie bestaat uit t-shirts, sweaters, jassen en een jogging pak bedrukt met een skull, tijger of een adelaar die netjes afgewerkt zijn met steentjes ( A-class Rhinestones) of het bekende puff print technique.
De My Brand Platinum x Luis Suarez collectie is een collectie speciaal ontworpen voor mannen. Er hangen ook kleding stukken tussen die wij als vrouw aan kunnen. En natuurlijk heb ik ook een favoriet tussen zitten nl. de My Brand Military Skull Jacket.
Het ontstaan van de collectie.
Luis Suarez draagt al een geruime tijd t-shirts van My Brand en was altijd al onder de indruk van de My Brand collectie en besloot daarom een samenwerking met My Brand aan te gaan. Geïnspireerd door de favorieten van Luis Suarez, ging het My Brand design team aan de slag en kwam de Platinum collectie tot stand.
Luis Suarez
Luis Alberto Suárez Díaz geboren op 24 januari 1987 is een voetballer uit Uruguay die bij voorkeur als aanvaller speelt. Hij verruilde in 2014 Liverpool voor FC Barcelona. Suarez speelde in Nederland voor FC Groningen en Ajax.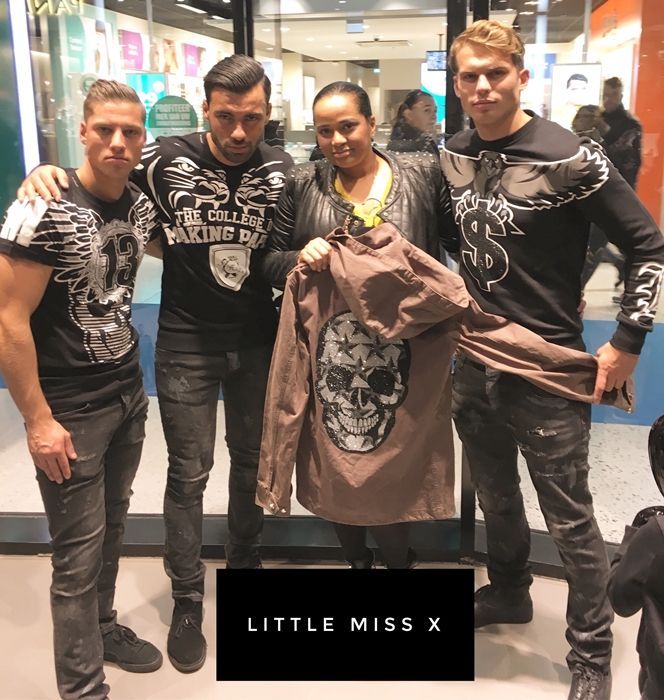 Dames het is bijna kerst en cadeautjes moeten gekocht worden, een t-shirt of sweater van de My Brand Platinum x Luis Suarez collectie zou dan ook het perfecte cadeau voor manlief kunnen zijn. Shop deze collectie in de My Brand store of my-brand.
Tijdens de launch party was mijn Camera zeker ook aan bekijk hier de video.
Veel lees en kijk plezier.
xxx
Little Miss X
By Symone