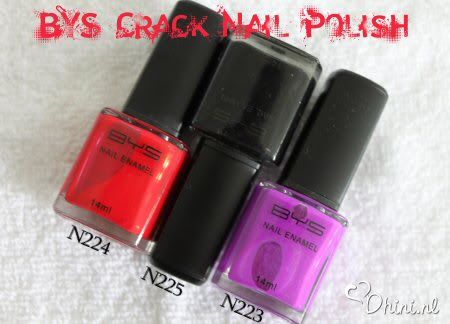 Heb deze nagellak via medebautybloger Michelle besteld (klik!).
Vandaag ga ik aan jullie showen :D. Heb nagellakjes 2 van Catrice Just married en Don`t feed the bird, 1 van Essence Surfer babe "The world`s coolest" als achtergrond.



Eerst moet je zorgen dat de lichte achtergrond op je nagels doen. Als het droog is, dan kan je deze crack nagellakjes erop doen. De zwart en rode kleur heb maar 1 laagje nodig, en de paarse in 1 of 2 laagjes blijft niet zo goed. 5 minuten wachten daarna kan je zien de nagellak cracken, zie boven resultaat. Op donker kleur als achtergrond werkt het wel maar het kan niet goed zien en de nagellak verwijdert snel eraf (werk dus niet op donker achtergrond) dus zorg dat de lichte kleur gebruiken als achtergrond. Op mini nagel heb gele nagellak van catrice, zie je dat het echt niet goed zichtbaar met paarse crack. Op wijsvinger heb matte coat van Hema gedaan.

Filmpje!
De zwarte en de rode zijn echt goed gedekt dan de paarse kleur. Helaas blijft het niet lang zitten, 1 dagje crack die nagellakjes eraf, niet alle eraf…wel beetje bij beetje.
Deze nagellak kan je biij Fashionaddict bestellen. Het kost $4.95Aus per stuk of BYS crack nail polis kit.