Een van my blopost las Ik in de reactie dat een van my bezoekers vroeg over cajuput oil en Ik ga vandaag over Cajuput Oil of bekend als Minyak kayu putih (in Indonesia) proberen te beschrijven (my ervaring en my mening over cajuput oil.
In mij land Indonesia gebruiken mensen veel cajuput oil, vooral bij ons familie. Wij gebruiken voor zoals insmeren peuter of klein kindjes lichaam nadat gewassen zijn, buikpijn, hoofdpijn, grieperig, verkouden, muggenbult en om te masseren (gemengd met olijfoil of baby oil). Hij is niet te heet en ruikt naar eucalyptus.
Toen Ik klein was, gebruik deze oil en Ik gebruik hem nu nog steeds vooral als er puisjes in gezicht en het werkt bij mij :yes: . Ik smeer myn puisjes elke dag tot ze gaar en worden hard dan hup..lah kan uit halen. Als Ik grieperig ben, mengde Ik cajuput oil met baby oil of olijf oil verder kan myn lieve man myn rug masseren. Toen Ik in Yogya in eentje een kamer huurde, kreeg Ik advies van myn oude zus "Dhini, als je grieperig ben, masser je je hand tussen duim en wijsvinger (daar kan je voelen dat je ziek (voel je daar er wind is) en dan tussen andere vingers masseren en dan over myn vingers trekken. ? 😉
Toen my jonge zusje peuter was, smeerde myn moeder haar lichaam met minyak kayu putih (cajuput oil). Ze ruikte zo fris en love it. Als Ik naar cajuput oil dan herinner me naar mijn kindertijd of kleine kindjes die al gewassen zijn. Zo lekker fris..!
Ik gebruik liever cajuput oil dan Tiger balm. Tiger Balm ruikt naar ouderen (bejaarden).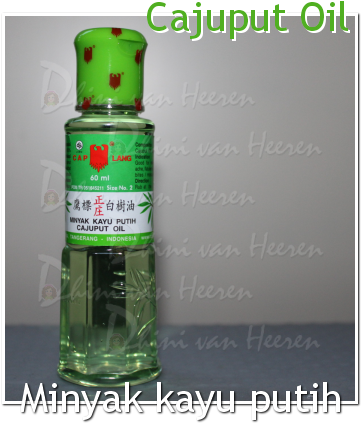 Ik hoop dat Ik goed genoeg over cajuput oil (Minyak kayu putih) berschrijven. Cajuput Oil in Nederland kan kopen bij betere Indonesische toko`s en of bij Suriname winkels of online
Fijne dag allemaal :sun: (lekker zonnig hier)
Liefs,