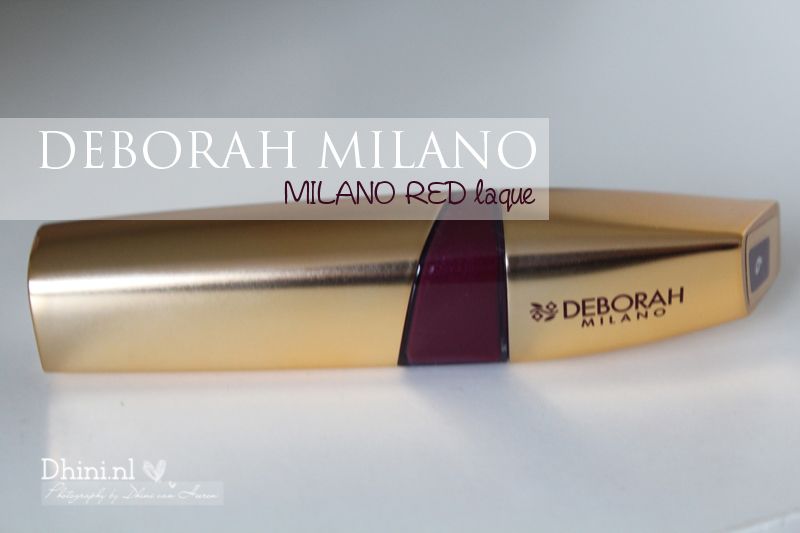 Deborah Milano Red laque is lipstick, balsem, gloss en lipstain in één. Een vloeibare lipstick voor je lippen. Vandaag ga ik voor jullie één swatches.



Ingredients : include Hydra-Gel Laque DH Complex, which releases a soft, lightweight film that instantly melts into lips. The pigment-rich formula leaves full, brilliant, fade-resistant colour. Hypoallergenic* The new MilanoRed laque lipstick has a delicate violet scent.


Deze 4-in-1 lipstick trekt meteen in mijn lippen en geeft mooi glanzend effect. De kleurpigmenten is goed, net als je gewoon lipstick aan op je lippen maar ook voel je dat je ook balsem en gloss aan. De geur is wel strek en ik ruik het naar iets zware bloemgeurtje. Een beetje storen vind ik want de geur vind ik persoonlijk niet zo lekker, mintpunt! De gloss/lipstick/balsem blijft lang zitten. Het plakt niet!


Ik vind het fijne product, alleen minder van de geurtje. Deze 4-in-1 lipstick bevat Hypoallergeen en bestaand uit natuurlijke oliën.
Deborah Milano Redlaque kost €9,95
Deborah Milano producten zijn verkrijgbaar bij de diverse parfumerieen en online via drogisterij.net en worldofbeauty.nl