Dettol merk ken ik toen ik nog klein was en woonde nog in mijn geboortestad Tasikmlaya, West Java. Ik had daar regelmatig de reclame op enige TV "TVRI" gezien. En ik zei altijd tegen Djess dat zijn handen even moet wassen voordat zijn eten of hapjes eten. Een tijdje terug ontving ik een product van deze merk Dettol "No-touch" kit. Ik testte hem en vandaag laat ik jullie weten wat ik ervan vind.

De product zit in een doos met pink kleurtje accent met daarop tekst en wat informatie.


Deze kit bevat 1 zeepdispenser, 1 navulling, 2AA batterijen (niet op foto)

Op de verpakking vind je plaatje hoe het moet. Handig! De onderkant openen is wel niet zo makkelijk maar fijn dat het uiteindelijk goed gelukt is.


Als alle sticker eraf halen dan laat de zeepje op de zeephouder omdraaien zetten en het is klaar om te gebruiken.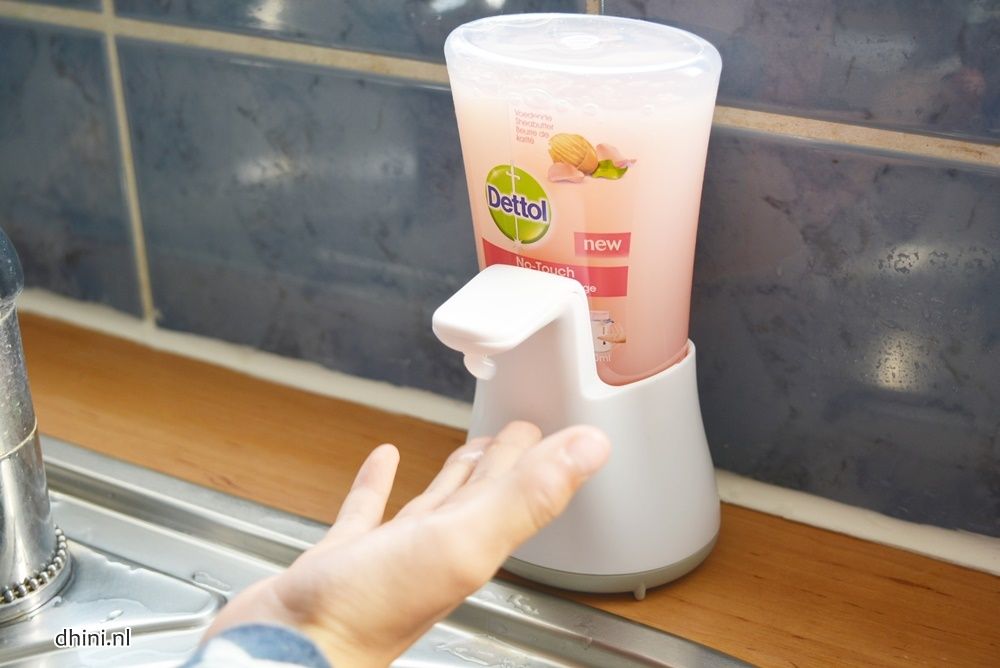 Djess was natuurlijk nieuwsgierig en gelijkt testte. Zijn hand leg voor het apparaat heen en weer halen en voile door de middel van sensor doseert de dispenser automatisch de juiste hoeveelheid zeep heb je nodig. Nergens meer met je handen aanzitten. Ideaal toch! Vooral als je je handen vies worden, zonder aanraking met de pomp kan je je vieze handen wassen. En nu de kran nog bij ons nodig zonder aan te raken ha..ha.. Deze vloeibaar antibacteriële handzeep bevat Shea Butter een gevoede huid. Het ruikt heerlijk zoet en het blijft lang hangen. Zoals ik gewend ben, smeer ik daarna met handcrème. Je kunt ook deze Dettol "No-touch" gebruiken voor of na de maaltijd, na gebruik van het toilet , na het tuinieren, na andere dingen te doen of als het nodig is . De knop achter kant kan je aan en uit doen. En als de zeep op is, kan je de navulling kopen en er zijn in zeven geuren Hydraterende Aloë Vera, Voedende Sheabutter, Komkommer frisheid, Pompelmoes frisheid, Groene thee en gember, Anti-geur citroen frisheid en Original. En de Dettol No Touch Automatische Zeepdispenser zelf verkrijgbaar in twee frisse geuren "Hydraterende Aloë Vera en Voedende Sheabutter".
*Dermatologisch getest.
Heel erg fijne product en eenvoudig gebruiken zonder zonder aanraking met het apparaat. Ideaal!
Dettol "No-touch" Automatische Zeepdispenser kost €12,99 is verkrijgbaar in de drogisterijen of Online.

Fijne dag en geniet ervan!
Dhini

Dit artikel bevat product(en) die ik heb ontvangen van een merk of bedrijf en affiliate links. disclaimer