Toen Ik heb maar sample blush van EDM (everyday Minerals). Nu word ik verslaafd aan blush. De meeste heb ik blush van EDM. Hier zijn ze : Dhin`s blush stash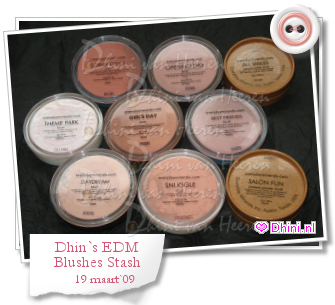 De Bovenste : Corner Office, Opening Day, All Smile
2de rij : Theme Park
, Girl`s Day, Best Friends
3de rij : Daydream, Snuggle
, Salon Fun

De volgende blush stash heb ik meestal bij bestelling Free kits erbij besteld.
1ste bloemtje (klok): Jinggle Bells, Chit Chat, Weekend Getaway, Swimming pool, Soft Touch, Mojave Camping en Sparkle.
2de bloemtje recht : Summer Stroll, Jingle Bells, Apple, Game Show, New Car Smell, Sunday Brunch en Snuggle.
3 naast elkaar : Raw Sugar, Walkes Talkee en Natural
Ik heb ze nog niet geprobeerd dus Ik weet het niet welke kleuren die ik mooi vind! Behalve Chit Chat, die vind ik mooi. De rest moet ik een keerte gebruiken dan weet het welke kleur die mooi vind.
Hieronder heb ik 4 blush (EDM blush) via Lushiousbeautytalk gekocht.

4 bij elkaar : Nick Nack, Evening out, Jump Rope en Plum dust. (via een member van Lushiousbeautytalk gekocht)
De andere : Waffle Cone
en Theme Park
Waffle cone vind ik mooi en ook Theme Park daarom heb ik de grote potje besteld.
Andere merken die ik heb onder ander


Bovenste 2 in kleine potje : Everyay bronzer en California Gold Bronzer
The Body Shop : Dune Pink
Wet n Wild : Mega Glo
Smashbox : Highlighter Quad Mix
(via Lushious Babe)
in de rond potjes van Lure Beauty : Apple Taffy
en Warm Hearted
in vierkante potjes van Aubrey Nicole : Eden blush en Blissful blush
In totaal heb ik dus 12 in de grote pot en in klein potjes zijn maar liefs 29 potjes.
Het valt me toch! Niet zo veel, he! wel genoeg keuzen. En Ik wil meer (nooit genoeg, he!! Mensen..mensen…toch waarom zo hebberig net als ik). By the way. De blush van benefit wil ik bestellen. Psssst…. vertel niet he!
Gisterenavond heeft myn man de wasmchine via internet besteld en op zaterdag komt de nieuw wasmachine. Yay…!
Liefs,