Doctor's Orders repen kende ik nog niet maar vandaag ga ik aan jullie kennis maken met deze lekkere repen bomvol met goede voedingswaarde. Ik heb een 3-pack van Doctor`s Orders repen, van elke smaak één.


Bij elke smaak heeft eigen kleur op hun vrolijke kleurig verpakking. Aan de achterkant van de verpakking vind je ingrediënten en wat informatie. Je kunt hem makkelijk openen, gewoon met je twee handen de plastic verpakking openen.
Doctor's Orders geeft je lichaam wat het nodig heeft:
– Eiwitten van kippeneieren, noten en zaden in combinatie met volkoren tarwe;
– Ongeraffineerde vetten uit noten, tarwekiemen, zaden en grasboter;
– Koolhydraten en vezels uit volkoren tarwe, haverzemelen en fruit;
– Vitamines, mineralen en allerlei bio-actieve stofjes die van nature aanwezig zijn in onze onbewerkte ingrediënten. Brons : doctorsorders.com


nuts & vanilla – Deze repen bevat noten en bourbon vanille. Ik vind de smaak lekker, niet te zoet. Voldoende zoet dus daar hou ik van. Naast amandelen en hazelnoot (die in al onze repen zitten) maar liefst drie extra noten toegevoegd aan de vulling van deze variant.

cacao & nuts – In deze heerlijke reppen zitten er combo van pure cacao met noten en cocos in. Ook vind ik deze combo lekker en niet te zoet. De cacao is pure 100% daardoor de smaak iets bitter is, maar ik vind het juist lekker.


cranberry & orange – Deze repen heeft fris-zure van smaak. De combinatie van cranberry & orange vind ik persoonlijk minder lekker. Normaal hou ik van fris-zure smaak en gek op sinaasappel maar deze combo smaak moet ik even aanwennen.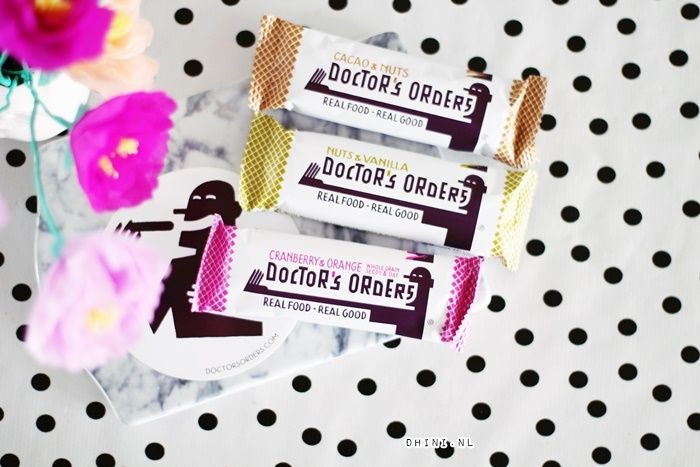 Deze drie smaken van Doctor`s Orders zijn gevarieerd en mijn favoriet smaken zijn nuts & vanilla en cacao & nuts. Lekker als tussendoor of voor onderweg naar werk of school. Ook leuk om weg te geven of te krijgen.
Je kunt ze op Doctor`s Orders webshop bestellen en je kunt ook zelf jou favoriete smaken samenstellen of dezelfde smaken. Het pakketje past door brievenbus.
Blijf op de hoogte van Doctor`s Orders producten door deze Facebookpagina te liken.

Fijne dag en geniet ervan!
Dhini
Dit artikel bevat product(en) die ik heb ontvangen van een merk, PR of bedrijf.