Een tijdje geleden ontving ik leuke pakketje met daarin producten van dbnatural.nl om uit te testen. Ze hebben eigen merk DB Naturals. In de pakketje zit er een monoi oil spray die ik hem vandaag voor jullie reviewen.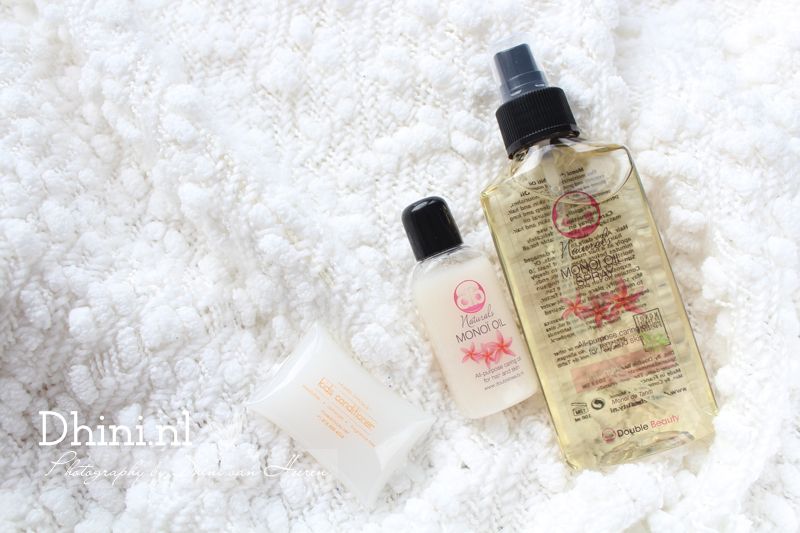 Double Beauty (DB) naturals monoi oil in twee variant Pure Monoï de Tahiti Oil (99% pure) en Monoi de Tahiti Oil Spray (50% pure) 100ml.


Monoi Oil Spray zit in een transparant hard plastic met daarom bloemen en logo van DB in zachte roze kleurtje.
Over monoi
Traditionally Monoi Oil is from the French Polynesian Island Tahiti, where it has been used for centuries long. The women of Tahiti have been using Monoi Oil for hair, skin, Baby massages, and healing of skin problems, such as eczema, rashes, sun burns etc. The natural oil nourishes, moisturizes and repairs hair and skin, while the warm scent of the Tiaré flower stimulates your sense of wellbeing. The hypo allergic oil is perfect for all hair and skin types, even the most sensitive ones.Monoi Oil is a rich combination of pure organic coconut oil and the rich Tiaré flower. Both ingredients are typical for the French- Polynesian island Tahiti, and both offer great benefits for your hair and skin. brons – dbnatural.nl

Op de achterkant zie je ingrediënten en hoe de olie gebruiken. De producten bevat no paraben, no allergen, no mieral oil, no silicones en no petroleum.


Met spray systeem vind ik handig want je kan zelf makkelijk bepalen hoeveelheid de olie nodig is. De olie trekt direct aan op je huid en mijn huid voelt super heerlijk zacht aan de hele dag lang. De olie voelt het niet, je kunt direct je kleren aan. Mijn heel lichaam voel lekker gehydrateerd. Ik heb geen bodylotion meer nodig. De geur is lekker zacht naar bloemen. Van mij de geur mag iets meer aanwezig. Het blijft wel lang hangen als je je neus op je huid snuffelen.


De monoi olie kan je voor je huid en ook voor je haar gebruiken. Ik bracht door mijn haren aan en mijn haar wordt in het begint vet maar langzamer de vetheid veranderd naar normale haar te krijgen maar dan ziet er mijn haar gzonder uit.


In deze mini hard plastic flesje zit pure monoi Tahiti oil (99%). Het werkt exact dezelfde net als monoi oil spray, alleen deze is in cream. De cream trekt snel in. Alleen is het niet makkelijk de cream er uit flesje halen. Ik moet de flesje hard drukken. .
Beide variant DB monoi Tahiti Oil zijn heel fijne producten voor lichaam en haar. De olie is geschikt voor alle huidtype. De monoi Tahiti oil kan ook voor mannen mannen gebruiken als hij gaat zijn snor of baard scheren.
DB Naturals Monoï de Tahiti. The DB Naturals Line consists of:
– Pure Monoï de Tahiti Oil (99% pure) 100ml $21.95
– Monoi de Tahiti Oil Spray (50% pure ) 100 ml $19.95
Te koop vind je op dbnatural.nl
Double Beauty – DB Naturals sociaal media volgen Facebook Twitter Youtube