Ik liet al aan jullie my ebay bestelling, lees #1. Vorige week heb ik de andere producten binnen. Helaas zijn er miskoop producten….logisch als je bestelde midden in nacht 😀 dan kon je niet goed zien meer omdat egeinlijk bedtijd was en ik :slaap: maar toch bleef :klik: not goed!
Dus…time to bed als tijdbed komt.
Benieuwd….



Ik zag op OhFashion en die moet ik hebben ;), ebay verkoper Bestgoodseller2010. Het kost $1.30 incl. verzendkosten.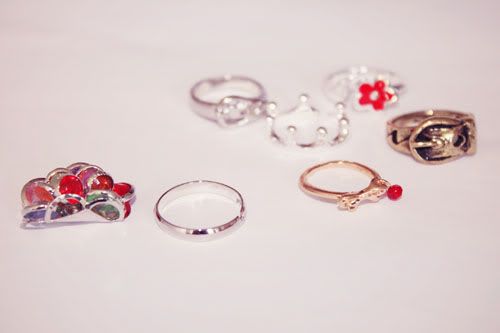 Ringen 😀 Ik ben nu gek op sieraden en bij ebay kan ik leuke dingen zien met leuke prijzen dus snuffelen en hierboven heb ik besteld bij Lotusmind369. Ze zijn ongeveer EUR 1,19 + gratis verzendkosten maar helaas er gebroken ring. Ik heb naar Lotusmind369 gemaild en ik mocht nieuw ring krijgen of refund. Ik ben bang dat de ring kapot weer dus ik vroeg of ik andere ring mocht hebben/krijgen en ze gaat andere ring sturen. Wat TOP Service!

Toch jammer dat er miskoop zijn. De producten zijn goed alleen de maten not God. De angel silicon is blijkbaar te groot voor myn samsung mini 🙁 Eigenlijk is die cute.
Ebay verkoper
US $2,45 Incl. verzendkosten.
Wie wil dit overkopen, mail me maar?
De andere is
Macro + lens close-up
– US $5,59 en 1 en eyecup – US $2,49 (niet op foto…nergens kan vinden 😀 en myn eigen eyecup al kwijtgeraakt :() ..helaas de maat te klein. Ik was enthusiast..zie niet de maar. De lens en de eye zijn 55mm…te klein voor myn spiegelreflex (ik moet 58mm hebben) en Beide deze
ebay verkopen
En nog harmonica ketting (niet op foto) jammer dat de ketting niet sterk genoeg…allemaal kapot. De harmonica hanger zelf goed.
Als goed is …alles al binnen dus…ik verwacht niet meer ebay pakketjes. Ff verder snuffelen dan :hihi:

Ben je ook van plan op ebay om iets leuks te bestellen?