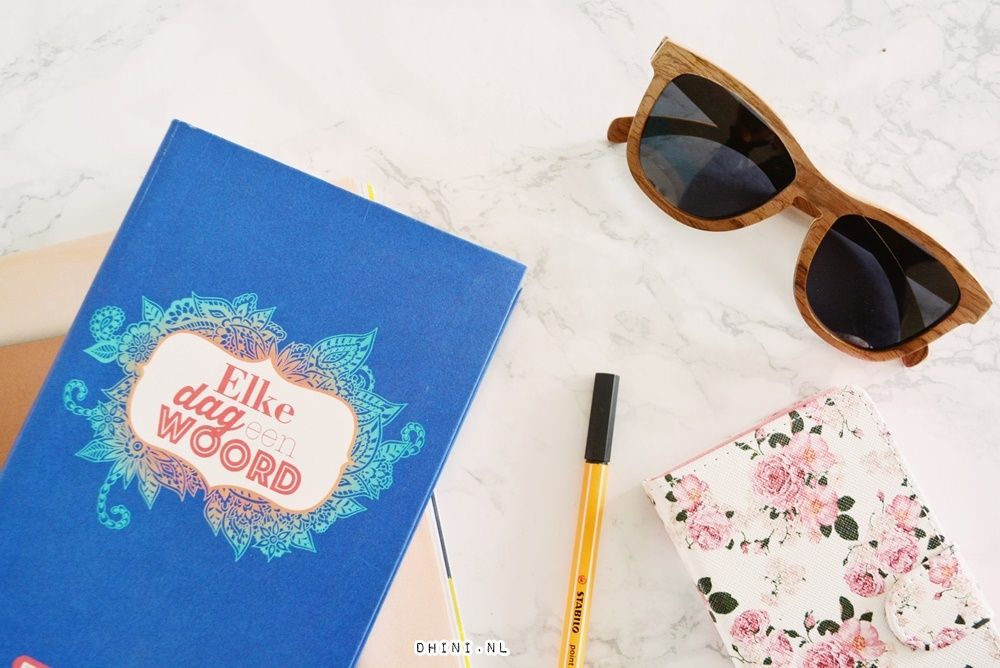 Heeft je geen tijd meer om uitgebreid dagboek bij te houden? Don`t worry want met dit mooie invuldagboek kan je Elke dag een woord schrijven, vier jaar lang. Elke dag een woord in een dagboek dan bespaar je tijd.

Het cover van het boek is mooi matte blauwe kleur hardcover. De formaat van het boek is fijn om in je tas te doen. Het boek is wel dik maar niet zwaar om hem overal mee te nemen.

Dit mooie invuldagboek heeft een gekleurde pagina`s. Op elke pagina`s staan er al op de datum en de maand met illustraties. Je hoeft dus alleen het jaar en een woord te schrijven. Het idee is simpel : als je je dag met een woord zou moeten omschrijven, welk woord zou dat dan zijn? In dit boek hoeft je geen gedetailleerd verslag van je heerlijke shopdag te schrijven 'sale' dat zegt genoeg. Als je het woord "grrr" van vorige jaar leest, denk je terug in de tijd en herinner je je weer precies dat echt een vervelende SD micro kaart had!. Maar als je zelf snel vergeten of langetermijngeheugen, is er ruimte om je woord extra uit te leggen/schrijven.

Ik vind het leuk boekje om lekker te ontspannen. Alleen voor mij denk dat ik meer woorden zou gaan schrijven want soms ben ik wel vergeten en misschien ga ik een tekeningen of een heel kleine foto of stickertje er op plakken zodat ik terug naar de tijd makkelijk kan herinneren. En bovendien maak het boek iets persoonlijker (tegenwoordig kan je de foto`s direct printen). Het boek "Elke dag een woord" kan je op webshop bbnc bestellen. Het boek kost € 12,50. Leuk boekje voor je zelf of als cadeautje.
Is dit boek voor je?
Blijf op de hoogte van BBNC door deze Facebookpagina te liken.
Elke dag een woord
Cadeau / Dagboek / Memoires, BBNC Uitgevers

Fijne dag en geniet ervan!
Dhini
Dit artikel bevat product(en) die ik heb ontvangen van een merk, PR of bedrijf. disclaimer