Zomer is al een tijdje en hoewel nog geen echte zomer en de zon is nog verlegen om uit te komen. Maar alvast voorbereiden om je huid de hele dag tegen UV-straling te beschermen. Niet alleen voor volwasenen maar ook voor kinderen. Garnier brengt de nieuwe product "Easy Peasy Wet-Skin milk". Vandaag lees je meer hieronder.

De zonnecrème zit in een tube met klikbaar systeem. Handig zo`n systeem.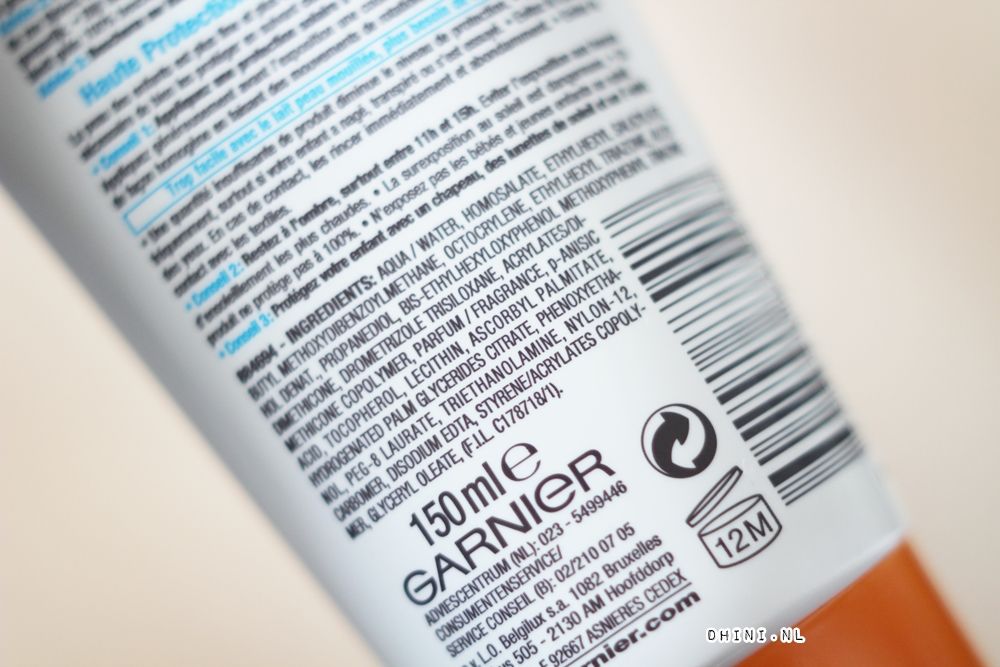 De ingrediënten

Met de Anti-Zand Spray SPF 50+ kunnen kinderen lekker buiten spelen in de tuin, park of het strand in het zand zonder last te hebben van schurende korreltjes. Mexoryl® XL fi ltersysteem zorgt voor een geavanceerde zonbescherming. De lichtgewicht mist met 360 graden applicatietechniek smelt op de huid terwijl speciale absorberende bestanddelenervoor zorgen dat het zand niet aan de huid zal hechten. De creme is licht, niet te. Het smeert gemakkelijk en goed hecht op droog of natte huid, afdrogen dus niet meer nodig. De crème trekt snel in en geen plakkerig op huid.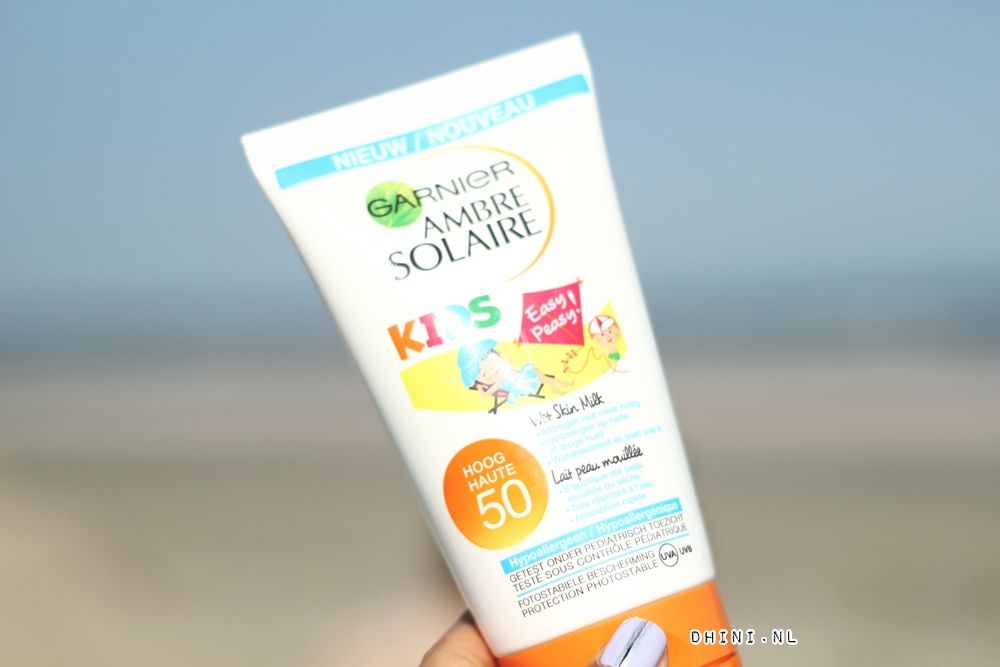 Garnier Ambre Solaire Easy Peasy Kids vind ik een heel fijne zonbescherming product. Naast de crème gemakkelijk te smeren en trekt snel in, heeft de crème aangenaam zacht geurtje. Wat fijn is dat de creme niet alleen op droge huid kunt aanbrengen maar ook op natte huid en geen zand aan blijft kleven als wij de hele dag op het strand spelen. Vergeet dus niet deze Ambre Solaire easy peasy mee te nemen als je uitgaan of dagje strand. Ik gebruik zelf ook. Het product gebruik zowel voor de kinderen als hun ouders! Dus komt maar hoor de zon! Wij hebben er zin in om op vakantie of naar het strand te gaan.
Garnier Ambre Solaire is Wet-Skin Milk SPF 50 is al verkrijgbaar bij de drogisterij. Hij kost € 17,99 ( 150ml )
Garnier Ambre Solaire :
Kids Zonnemelk SPF 50+ 200ml € 17,99
Kids Zonnespray SPF 50+ 200ml € 18,99
Wet-Skin Milk SPF 50 150ml € 17,99
Anti-Zand Spray SPF 50+ 200ml € 18,99
Kids Reisformaat SPF 50+ 50ml € 5,99
Baby in the Shade SPF 50+ 50ml € 7,99
Smeer je jou kids en je zelf ook zonnecrème voor kinderen ?

Fijne dag en geniet ervan!
Dhini
Dit artikel bevat product(en) die ik heb ontvangen van een merk, PR of bedrijf. Ook bevat affiliatie link disclaimer