Gisteren ben ik "getagged" door eef van Girl loves beauty. Maar het was tijd om naar bed te gaan dus Ik vandaag die vragen beantwoorden. Tadaaaaa… hier myn antwoord.
A. Four places that I go over and over: (4 plaatsen waar ik vaak kom)

Beautyblog, myn lieve bank dichtbij verwarming met my laptop, Supermarkt, Gynaecoloog.
B. Four people who email me (regularly): (4 mensen die mij regelmatig e-mailen)

Nieuwsbericht van verschillende webshops, reacties op mijn blog die ik per e-mail ontvang, myn schoonmoeder en my familie.
C. Four favorite smells: (4 Favoriete geuren)

Het is leuk vraag en ook moeilijke vraag want ik hou van zo veel perfumes (niet allemaal, gewoon die lekkere geuren) en ik gebruik zoveel mogelijk verschillende geuren en elke dag wat anders. Maar hier moet ik 4 Favoriete geuren noemen. Dan moet ik wel 4 kiezen. Hier zijn ze :

Flower by Kenzo. My eerste parfums die ik zelf gekoht van my zakgeld. En I love it.

Addit by Dior. Oh…die is echt lekker. Love love it. Dit was verjaardag cadeau van myn lieve man. De geur blijf lang hangen.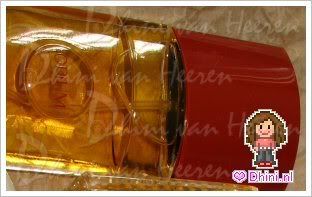 Opium by YSL. Toen ik nog in Indoensia woont, ruikte ik deze geur en Ik wil hem hebben. De lieve echtpaar uit Duitsland heeft voor mij de Opium gekocht. Echt lief van hun. Dank je wel. Het ruikt strekt en blijf lang hangen.

Pink sugar by Aqualina. Zoete geur …yum..!
D. Four places I would rather be right now: (4 plaatsen waar ik nu zou willen zijn)

Yogyakarta, Indonesia waar my alle families wonen.

Disneyland Paris, Ik wil daar leuke dingen samen met myn families.

Sauna waar ik en myn lieve man samen verwend worden met lichaam behandeling, gezichbehandeling, relaaaaaaaaaaaaaax enzo.

Plek waar er grote winkel centrum en ik kan naar leuke dingen kijken en shoooooopppiiiiiiing, hi…hi….
E. Four people I tag: (4 mensen die ik tag)

Ik tag Delta Cephei, Sanne, Isobel & Fashionistasparadise
F. Four TV shows I watch: (4 series die ik volg)

Ik kijk niet zo van soap serie, Ik weet het niet of die goed antwoord is. Ik kijk naar Oprah , Ghost whisper, Wereld draait door en als met mode te maken.
Liefs,