Een tijdje geleden ben ik benaderd door Goodprint.com om hun mooie Visitekaartjes voor mij blog. Natuurlijk wil ik dat en ik heb nieuw kaarten nodig dus het komt goed uit. Vandaag laat ik aan jullie zien welke kaarten heb ik uitgekozen.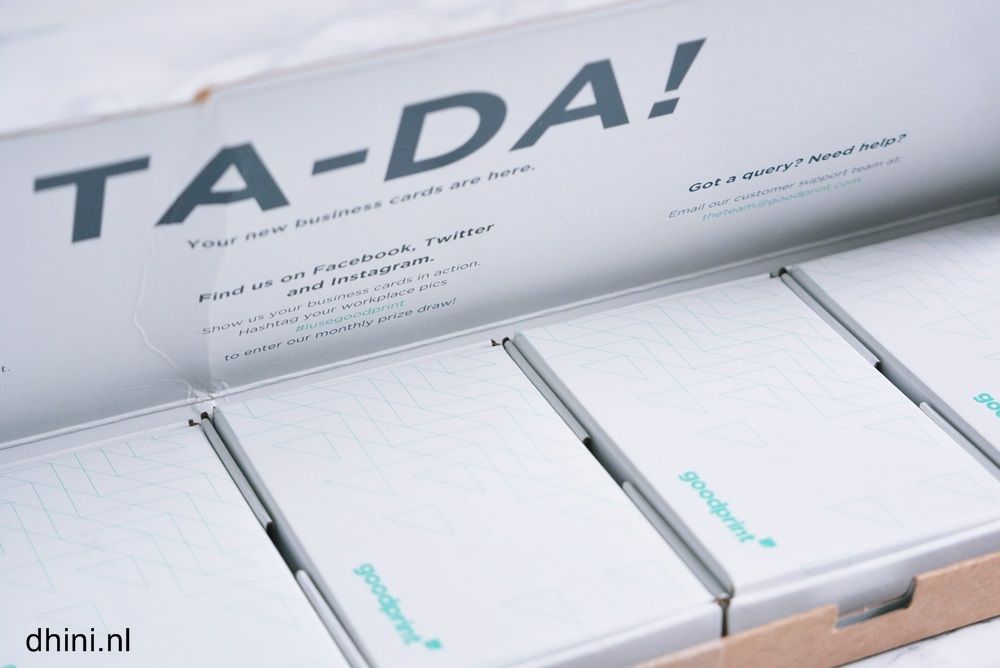 Toen ik de pakketje binnen …..Ta-da! In deze lang platte box zitter er 5 boxjes met daarin maar liefs 40 visitekaartjes. In totaal dus heb ik 200 visitekaartjes ontvangen. Echt heel veel he!

De pakketje is plat en lang en dus kunt door brievenbus.

Ik heb voor simpel visitekaartjes gekozen met zwart en mint tekstkleur. De voorkant staat informatie de naam van mij blog, de adres, sociaal media`s en de achterkant staat alleen de naam van de blog. De blank ruimte om voor extra wat schrijven als het nodig is bijv. telefoon nummer of what`s up nummer etc. De kaart is mat en ik vind het mooi daarom heb ik dat gekozen.
Er zijn heel veel kant klaar design, je kunt alleen maar de vakjes invullen en de font style kiezen. De achterkant kunt je kiezen, blank of alleen de naam van je blog (onderaan, bovenaan of in het midden laten zetten, is het mogelijk). Of kies kant klaar design. Of je eigen design uploaden is ook mogelijk.
De visitekaartjes zijn stevig en ik ben heel erg tevreden. 200 visitkaartjes betaal je $14.99 (£9.99/€14.99).
Visitekaartjes nodig met easy en kant klaar kunt je terecht op Goodprint.com