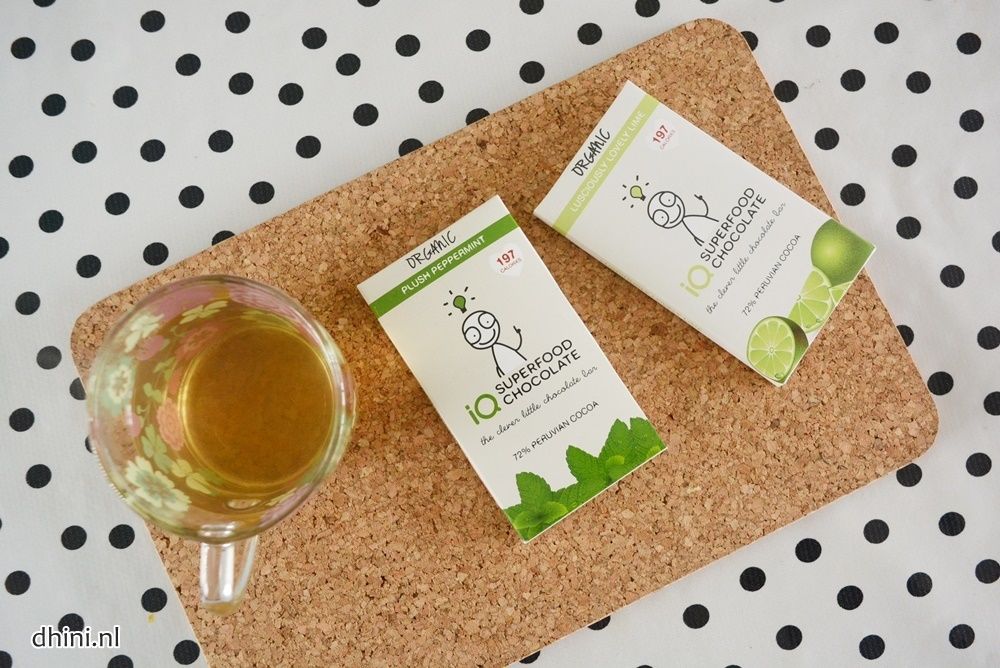 Een paar dagen terug ben ik benaderd om 2 reepjes chocolate te proeven. Ik ben gek op snack, food dus ik zeg niet tegen he! Van te voren liet ze mij weten dat de chocolate puur chocolate is. Dan word ik nieuwsgierig van en graag ze proeven. Ik proef twee IQ Superfood chocolate reespjes en wat vind ik het

IQ Superfood chocolate IQ is super lekkere chocolade en wordt letterlijk van boon tot een reep gemaakt. IQ behoudt 100 procent van de goedheid van de boon. Dat betekent geen bakken, braden en branden; geen gedonder dus met iQ bonen als het niet nodig is. IQ heeft een aantal sublieme smaken aan de chocola toegevoegd. Dat zijn limoenen, pepermunt, koffie, frambozen, sinaasappel , honing en gemalen haver. Deze ingrediënten zijn 100% biologisch en duurzaam geproduceerd. De volledig natuurlijke en onbewerkte smaken worden aan de chocolade toegevoegd voor een paar heerlijk verfijnde smaken . Het echte werk dus!
De chocolate reepje zit in een leuk half hard papier met daarop leuk tekening en de afbeelding van de smaak. Ik heb twee smaken geproefd "IQ Superfood Chocolate plush peppermint en IQ Superfood Chocolate luscious lovely lime"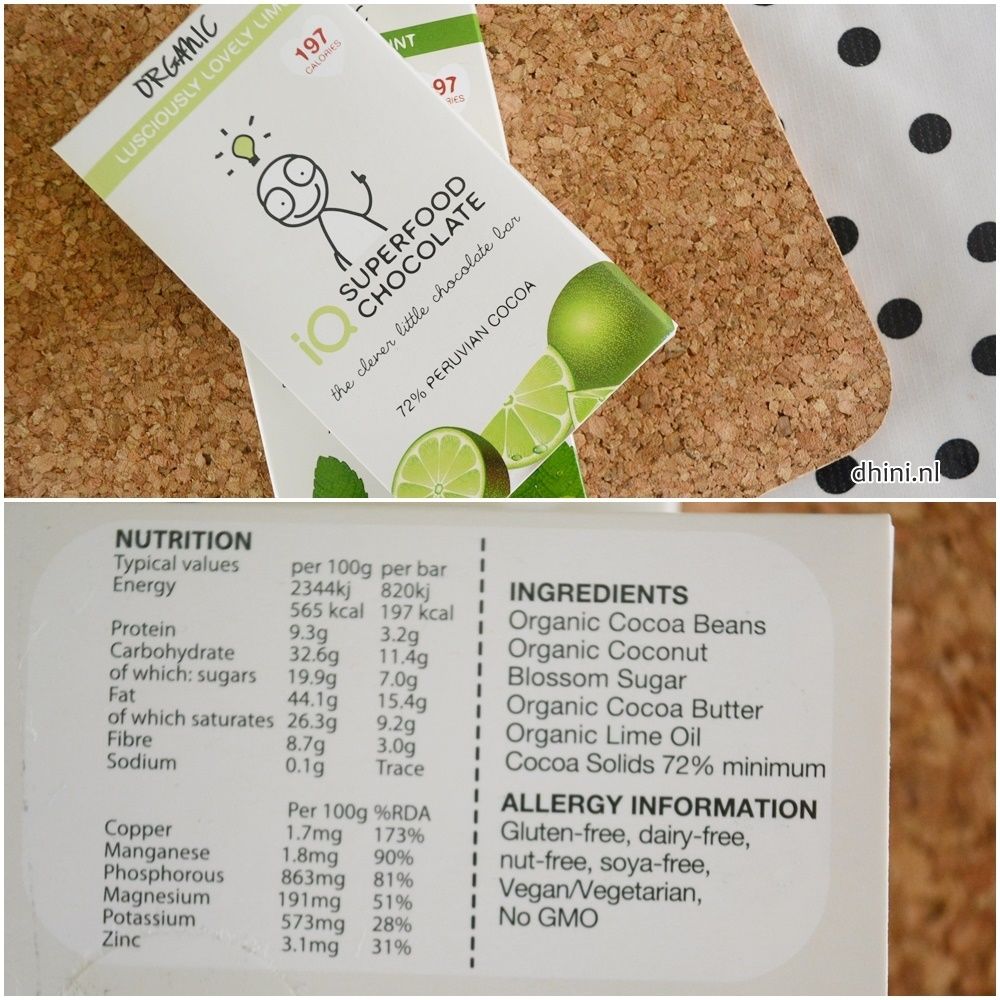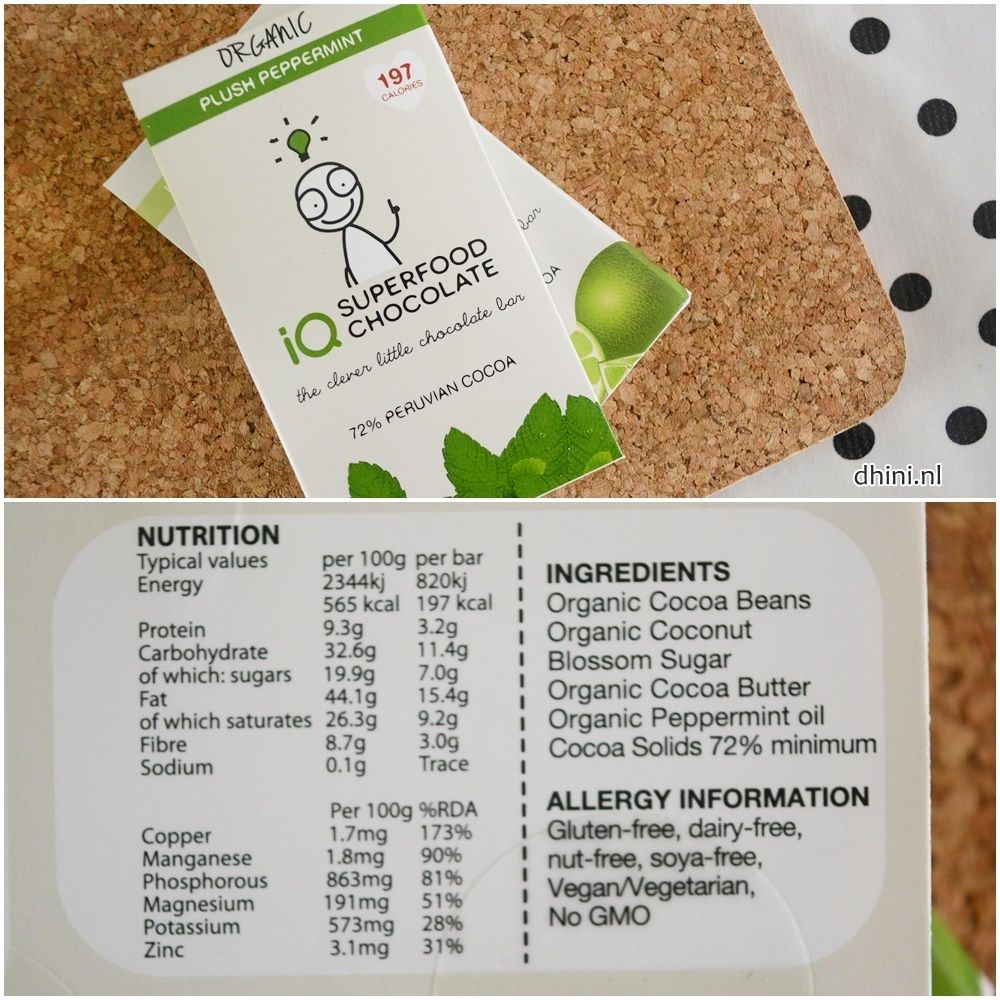 De ingrediënten

Als je de verpakking opent, zie je heel erg leuk en cute plastic verpakking. Er staan plaatje en wat informatie binnenkant van de papier verpakking. Hoe leuk is dat.
Eerlijk ben ik gek op pure chocolate. Mijn zoon is gek op chocolate dus hij wilde ook graag proeven. Samen hebben wij chocolate met lime en het smaakt echt best bitter dan gewone chocolade. In het begint hmmm niet zo lekker maar na een paar keren vind ik het wel lekker, mijn zoon niet. Ik proef gelukkig geen lime smaak, wel chocolate proef ik iets meer bitter dan gewone pure chocolate. Hier moet je echt van houden. Daarna samen wij de tweede chocolate met pepermint proeven en de smaak vinden wij lekkerder dan de lime smaak. Met pepermint smaakt ook bitter maar er warm smaak (niet te) door pepermint (denk aan ..ik weet het niet meer de naam van dat chocolate). DJ vind het ook lekker.

Beide smaken vind ik lekker maar als favoriet is chocolate met pepemint. Je kunt ze niet op een dag alles opeten. Per dag een kleine stukje is genoeg en lekkerder! Lekker samen met kopje koffie of thee
IQ superfood chocolate bevat 100% biologish en 72% cacaobestanddelen, glutenvrij, melkvrij, sojavrij, notenvrij, past in een veganistisch en vegetarisch dieet, vrij van geraffineerde suikers, gezoet met kokosbloesem en bevat geen genetisch gemanipuleerde ingrediënten.
IQ superfood chocolate kost €2,99 per stuk en er zijn meer smaken in cocoa-nib crunch, orange with wild rasberry, original bean-to-bar, espresso kick-coffee en BeautiQ organic, YogiQ organic. Te bestellen op 123Superfoods. Gratis verzenden vanaf €45.
Hebben jullie al pure chocolate van 123superfood opgegeten?

Fijne dag en geniet ervan!
Dhini

Dit artikel bevat product(en) die ik heb ontvangen van een merk of bedrijf. disclaimer