Dear Bloggie, Kerokan! Ken je dat? Bij ons als een van ons ziek was, deed mijn moeder of mijn vader onze rug kerokan. Wat oil (meestal kookolie) mengt met cajuput oil maar nu meng ik met olive oil en een muntje om rood op mijn lichaam te krijgen (heen en weer).
Gisteren heb ik zelf kerokan gedaan, niet hele rug, alleen die met mijn hand kon bereiken. Lastig natuurlijk als ik in eentje doet 😀 Alleen achter de nek en boven tweeling bergen. Ik deed deze keer mijn arm ook. Daarna heb ik zelf mijn handen en vingers gemasseerd. Ik voel me echt nog niet beter met kerokan want alleen maar half lichaam dat is natuurlijk te weinig. Het moet hele lichaam vanaf hoofd tot tenen. Net als toen Cici hier was. Ohhh dat was echt lekker. Ik verlang naar haar om mij te masseren maar ik mis haar ook. Toch leuk als er een familie hier ben. Tijdens kerokan ging ik lekker boertje laten en kentut. Dat is lekker zeg.
Arjo vind niet leuk om mij te kerokan. Want mijn rug wordt rood van. Maar ik voel zelf lekker en gaat stuk lichter mijn lichaam.
Wat vind je van kerokan? Heb je ooit gehoord of zelf ooit gehad?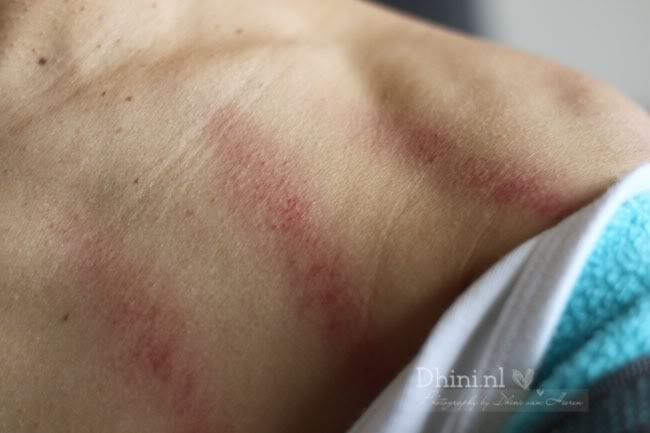 Gisteren avond heb ik overgeven..bah..Ik probeerde tegen te houden. Ik wilde niet kotsen..ik vind het vies. Maar ja…daarna kon ik niet meer tegenhouden dus… :bleh: en tegelijkertijd pipis..oeh..dat klinkt echt vies he..maar serieus kon ik niet tegenhouden dus wij moesten onze bed omdraaien en dan nieuw hoeslaken en nieuw bed. En Arjo begint te snotteren. Neee he…niet weer ziek. Als wij 3ien ziek toch helemaal vervelend. Hopelijk gaat snel beter met ons.
Bedankt voor jullie beterschap wensen.