Bouwen, aan elkaar zetten speelgoed is het altijd leuk om te doen. Niet alleen de kids vind dat leuk, ik vind zelf ook erg leuk. Last ontving ik een pakketje met daarin speelgoed K`NEX 10 model fun building set. Met een doos kan je gelijk al 10 verschillende dingen maken. het klinkt toch leuk. Lees je wat wij ervan vinden.

Dit is de voorkant van de doosje. Er staan aantal design die je met deze set kan bouwen. 10 in 1 bouwset speelgoed dus.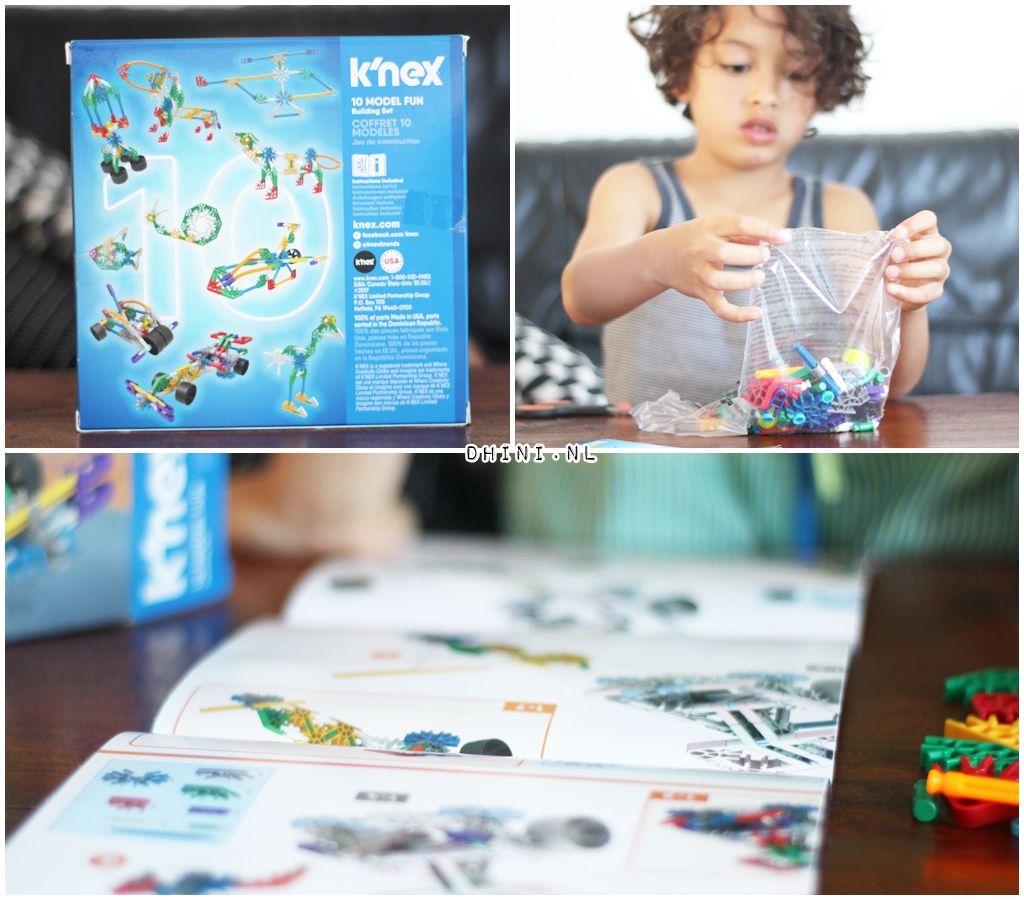 De achterkant van de doos zie je dat je 10 model kan bouwen zoals helikopter, raket, slakje etc. In de doos zit er een zakje met 126 klassieke K'NEX-onderdelen en een boek met 10 geïllustreerde instructieboekje. Het bouwsysteem van K`NEX bestaat uit kleurrijke kunststofstaafjes en koppelstukken die je met een eenvoudige "klik" in elkaar kunt zetten! Het klinkt simpel en interessant.
Toen mijn zoon deze doosje zag, kon hij niet lang wachten om gelijk aan de slag. Dit is voor de eerste keer om de K`NEX onderdellen aan elkaar te zetten. Hoewel hij naar instructieboekje keek, is in het begin nog even goed kijken maar daarna het ging verder easy om aan elkaar te zetten.
Filmpje of klik hier


TADA…klaar! Djess heeft alle eerste deze race auto met K'NEX-onderdelen van deze bouwsetje gemaakt. Mijn zoon vindt het erg leuk bouwset speelgoed. K'NEX is het meest vernieuwende constructiespeelgoed ter wereld, waarmee kinderen fantastische werelden kunnen bouwen. Met K'NEX-onderdelen kan je vele verschillende creaties bouwen. Dat is natuurlijk harstikke leuk en de kids kunnen lekker zoet aan het bouwen. Te koop in de speelgoed winkel of online
Speel je je kids met deze bouwset K`NEX?
Liefs,
Dhini

Volg jij mij al via Instagram, Facebook, Bloglovin, Youtube, Pinterest, Linkedin en/of Twitter?

Dit artikel bevat product(en) dat door bedrijf/merk is opgestuurd. disclaimer