Eigen persoonlijk kleding met eigen tekst of afbeelding is het toch leuk. Van Digitransfer mocht ik met eigen onderwerpen/tekst/afbeelding op Digitransfer.info maken, zei ik niet tegen.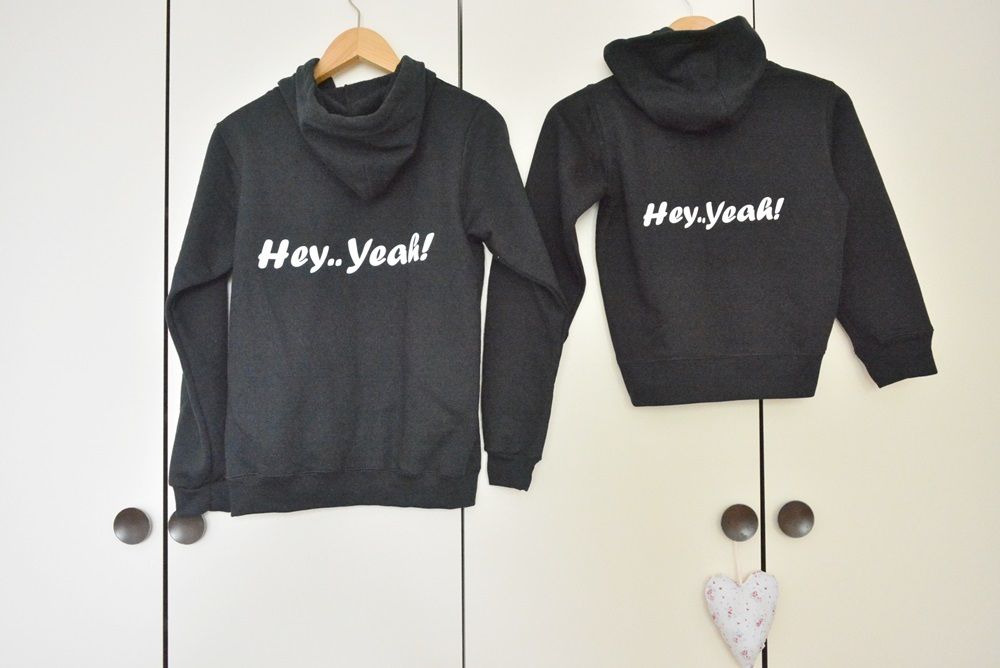 Ik heb een sweater/vest met ristlsuiting en capuchon. Voor mij in maat S en een voor DJ in maat 5/6 jaar. Ik koos voor basic kleurtje zwart. Omdat ik matching wilde, heb ik hetzelfde zinnen op achterkant " Hey..yeah!".
De material van de sweater/vest : 50% katoen – 50% polyester – voorgekrompen fleece – 280 gram
Bij Digitransfer kunt je je gekozen kleding de teskt of afbeeldingen op voorkant, achterkant, linkerkant en rechterkant laten bedrukken. Je mag natuurlijk je eigen tekst/afbeeldingen gebruiken. Als je geen tijd hebt of graag kant klaar teks of afbeelding dan vind je alle leuke tekst/quote al op de website. Let wel op dat hoe meer tekst/afbeeldingen op de kleding laten bedrukken, wordt de prijs omhoog.
DJ is helemaal happy en hij vindt leuk dat de kleding matching met zijn mama. De sweater zelf is heel fijn, wel de maat valt te groot voor mij maar ik vind het niet erg en voor DJ is ook iets te groot. Maar wij vinden de kleding met eigen tekst heel erg leuk.
Op Digitransfer.info kan je de kleding voor dames, heren, baby en kids laten bedrukken. Leuk voor je zelf of aan iemand geven. Ze versturen je bestelling binnen 3-5 werkdagen na ontvangst van betaling.

Fijne dag en geniet ervan!
Dhini

Dit artikel bevat product(en) die ik heb ontvangen van een merk of bedrijf.