Na het sporten of een fysiek intensieve dag is er niets lekkerder dan een warme douche. Kneipp introduceert de nieuwe Kneipp Arnica Douche. Deze kruidige frisse douche met waardevol arnica-extract vitaliseert en biedt verlichting voor de spieren na fysieke inspanning. Ik testte hem en vandaag blog ik hieronder. Lees jullie mee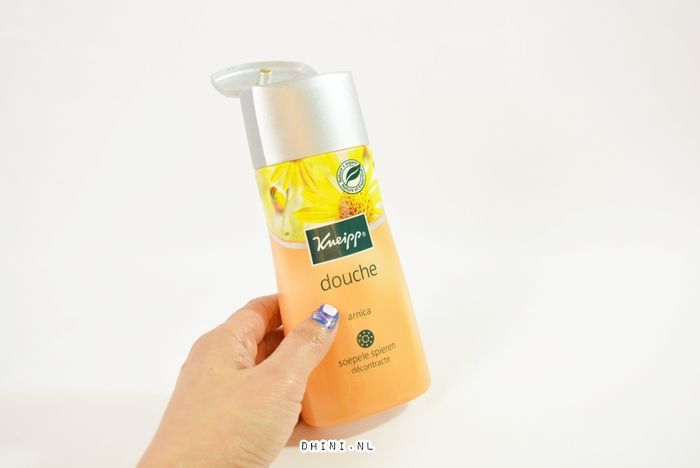 De verpakking is zoals andere douche Kneipp producten, wel handig en makkelijk open te maken door de klikdop systeem. De gat is groot genoeg om de douchgel er gemakkelijke te doseren.

Op de achterkant van de verpakking van Kneipp Arnica douche lees je de ingrediënten en wat meer informatie over het product. Deze douchegel bevat geen paraffine, conserveringmiddelen, siliconen en minerale oliën inzitten, dat is fijn om te weten, wel zit er een beetje parfum in. Wanneer je de klikdop open, ruik je meteen aanwezig, naar kruidige geur. Ik vind de geur erg lekker (denk aan Indonesië traditioneel drank (jamu)). Van deze geur moet je wel houden, want de geur is vrij kruidig en sterke geur die zeker je zintuigen prikkelt. De textuur van de douchegel is vrij dik en heeft een oranje doorzichtige kleur. Het schuimt voldoende.

De Kneipp Arnica Douche Gel is bedoeld om de spieren lekker te ontspannen. Het werkt voor soepele spieren weet ik niet. Wel merk ik dat de zintuigen prikkelt door de aanwezig kruidige geurtje. Heerlijk doucehgel! De Kneipp Arnica Douche Gel is al te koop bij de drogisterij, het kost € 5,49 (200ml).
Liefs,
Dhini
Volg jij mij al via Instagram, Facebook, Bloglovin, Youtube, Pinterest en/of Twitter?

Dit artikel bevat product(en) die ik heb ontvangen van een merk of bedrijf.