Kruidvat heeft nu alle producten uit hun eigen huidverzorgingslijn Kruidvat originals collectie in een nieuw jasje en er zijn nieuwe producten toegevoegd. Het bruine getinte verpakkingen zijn gebleven, maar ze zien er een stuk chick uit. Ik testte twee van Kruidvat riginals eigen huidverzorgingslijn en vandaag meer informatie hieronder

Kruidvat richtte in 1975 deze eerste eigen huidverzorgingslijn met herkenbare, natuurlijke ingrediënten op zoals rozen, abrikozen, tea tree olie en amandelen. De uitgebreide collectie kent voedende dagcrèmes, lichte massageoliën, ontspannende gezichtsmaskers en het welbekende rozenwater. Ook is er gedacht aan verzorging speciaal voor de heren, met de baardolie en Snor & Baardwax.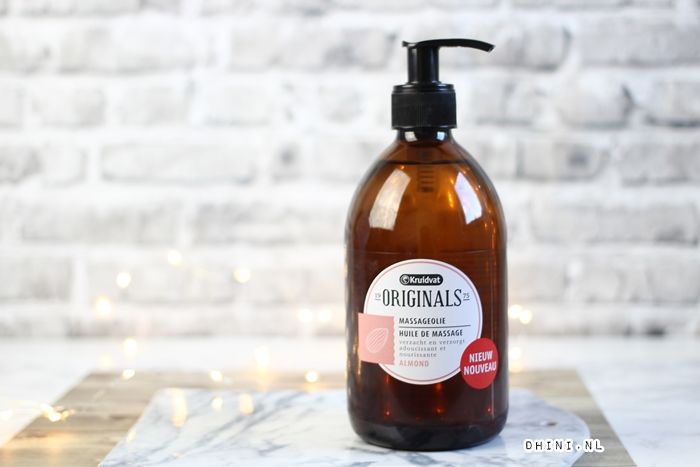 Kruidvat Originals Almond Massage-olie €3.39 (500m)
De massage olie zit in een plastic verpakking met een handige pompsysteem. Deze nieuw verpakking zal mooier op de beauty bureau of in de badkamer laten staan.

De olie is goed smeerbaar tijdens masseren. De olie trekt niet snel in maar het voelt geen vettig aan daardoor is zeer geschikt voor huidmassages. Er zit wel een beetje parfum in vandaar dat de olie lekker geurtje heeft. De olie ruikt lekker fris. Mijn huid is lekker zacht en soepel en zonder vettig aanvoelen. Prettig voor huidmassages.

Kruidvat Originals Huidzuiverend Dag & Nachtcrème "Tea tree" €1.99 (100ml)
Kruidvat Originals dag & nachtcrème zit in een glas potje.

Wanneer je de dopje opendraait, zie je er bescherm folie. Deze dag- en nachtcrème bevat tea tree olie allantoïne en kamille verzacht je huid en gaat onzuiverheden tegen. De tea tree geurtje is erg aanwezig maar het vervliegt snel wanneer je de crème over je gereinigd gezicht aanbrengen. De crème heeft een licht textuur daardoor smeert het gemakkelijk en trekt snel in. Kruidvat Originals Huidzuiverend Dag & Nachtcrème is speciaal ontwikkeld voor de onzuivere huid.

De Kruidvat Originals producten zijn verkrijgbaar bij alle Kruidvat winkels en online via kruidvat.nl. Prijzen variëren van € 1,99 tot € 3,99.

Fijne dag en geniet ervan!
Dhini

Dit artikel bevat product(en) die ik heb ontvangen van een merk of bedrijf.