Tassen, rugzak of koffer nooit genoeg krijgen. Het is zo handig om te hebben als je naar het centrum gaat of naar school, naar kantoor, weekend weg of heerlijk op vakantie. Vandaag laat ik mijn nieuw laptoprugzak aan jullie laten zien. Lees mee wat ik hem ervan vind

De rugzak van voorkant en achterkant. De rugzak is in zwart kleurtje van het merk Lightpack.
Producteigenschappen
Afmetingen extern: 45 x 35 x 16 cm
Afmetingen laptop compartiment: 42 x 30 x 5 cm (17 inch)
Materiaal: 1680D Nylon/PU
Kleur: Zwart
Brons : Marington.nl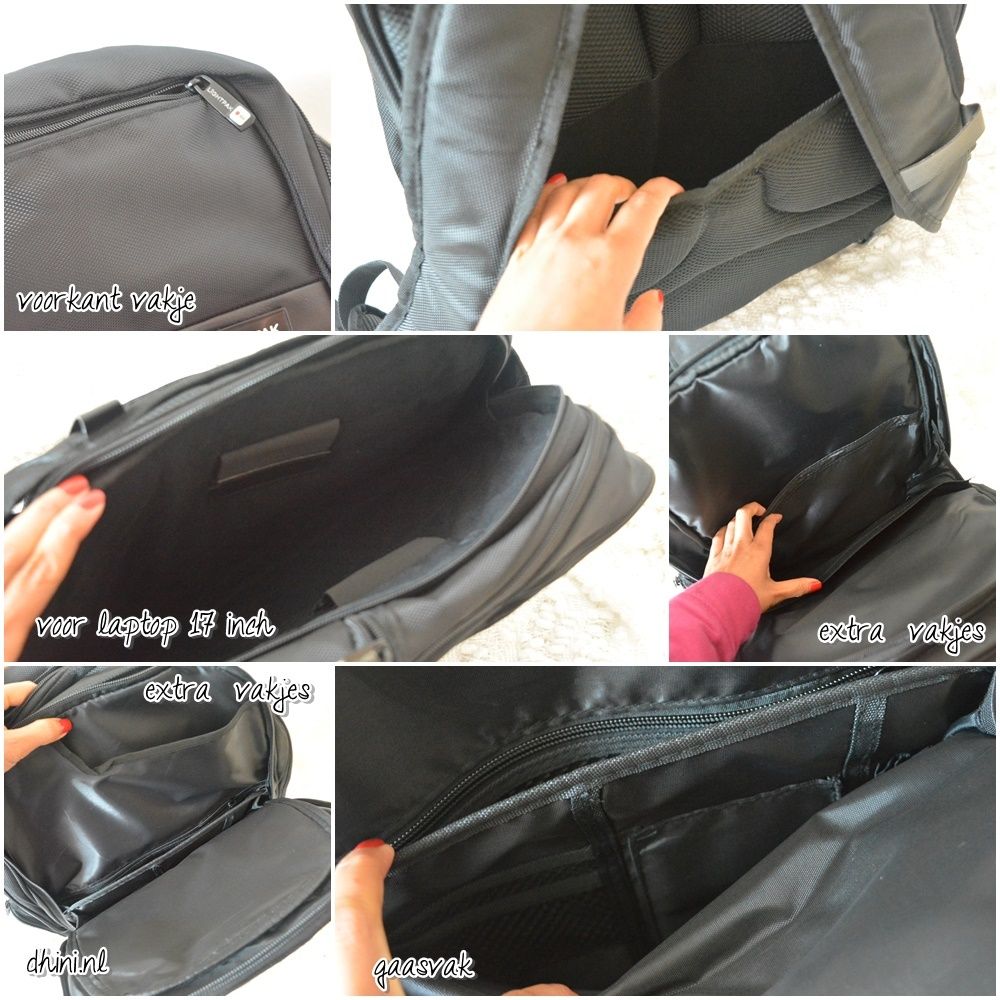 Er zijn steekvakken aan de voor- en zijkant met ritssluiting. De achterkant van deze laptop rugzakken is het mogelijk om de rugzak te bevestigen op een trolley systeem. Handig voor op reis. De laptopvak op zijkant van de rugzak is voor laptop van 17inch, maar mijn laptop 17,5 inch past goed en ruimte genoeg. Er zijn nog twee steekvakken met ritssluiting en zoals op de foto`s zie je de binnenkant zijn er genoeg vakjes voor je tab, kabels, oplader, selfiestick, pennen, boekjes. Superhandig en veel ruimte voor je alle spullen.

Deze vak in zijkant van de rugzak speciaal voor laptop, ruimte genoeg en veilig met klittenband.

Ik ben super blij mee dus tijd om een weekendje weg of op vakantie te gaan. En ik ben ook erg tevreden over deze Laptoprugzak. De kwaliteit is hij erg goed, stevig en heeft niet alleen verstelbare en gewatteerde schouderbanden maar ook handvat en gewatteerde rug. Zeker een aanrader. De laptoprugzak van merk lightpak heeft in twee versie. Deze is een Lightpak Executive Line Laptop Rugzak Echo 1 prijs van €69,95.
Op Marington.nl vind je heel veel verschillende tassen zoals Weekendje tassen, Aktekoffers, Reistassen, Tassen voor dames en heren. En er zijn ook voor je in huis zoals muurstickers, plaids, verlichting en nog veel meer. Vanaf 100€ is verzendkosten gratis. Als je voor oor 14:00 besteld, volgende dag is je bestelling in huis.

Fijne dag en geniet ervan!
Dhini

Dit artikel bevat product(en) die ik heb ontvangen van een merk of bedrijf. Zie disclaimer