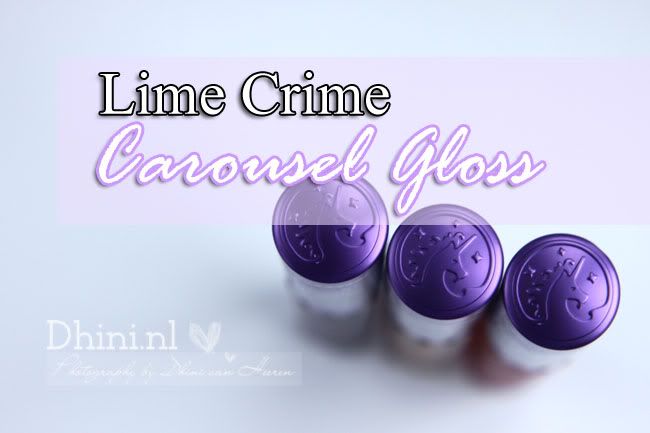 Vandaag laat ik jullie drie Carousel glosses van Lime Crime Candy Apple, Kaleidoscope en Golden Ticket.. Ik ben erg tevreven met eye candy helper van Lime Crime (review) dus ik ben erg benieuwd naar hun glosses. Ze hebben meestal aparte kleuren maar ze zien er wel mooi uit.



De dozen zijn heel erg mooi. De ingredienten :



De dozen zijn al mooi en de verpakking van de gloss zijn geweldig. Een transparant draaimolen verpakking zodat je de kleur kan zien. En op de dopje staat mooi print en de bovenste staat logo Lime Crime (unicorn). Prachtig verpakking!
Wat zei Lime Crime over deze glosses :
Carousel Gloss boasts semi-opaque coverage combined with bursts of nebulesque sparkle that comes alive in indoor lighting. Cruelty-free/vegan formula glides on smoothly on bare lips or over your favorite lipstick. Each gloss arrives in a sumptuous purple foil box resembling an antique merry-go-round — the ultimate gift (or indulgence) for those seeking a little luxury in their makeup bag. But hurry: this collection melts with winter's last snow…

De kwastje is vrij klein maar fijn in gebruik. Alle drie heeft dezelfde geur "zout" maar niet overheersend en als je de gloss smeer op je lippen, ruikt niet meer de geur. De glosses zijn best plakkerig en dus let wel op niet te veel anders op je tanden ook als je lacht 😀 maar langzamer voel je niet meer plakkerig.


Zoals je ziet. Alle drie glosses zijn erg goed gepigmenteerd. De Candy Apple heeft iets een subtielere goud shimmer. De Kaleidoscope heeft een mooi shimmer glans en de Golden Ticket heeft strong glans. Ze blijven best lang zitten, zelf na eten en drinken, alleen natuurlijk niet meer glans.

Candy Apple vind ik heel erg mooi rode goud shimmer gloss. Lekker fel!


Golden Ticket is mooi stong glans maar niet voor iedere dag dragen. Het is leuk voor carnaval, feest of bijzonder gelegenheid ofzo.



Kaleidoscope is de kleur niet voor iedere dag dragen, vooral bij mij, misschien voor die lichte huid hebt. Het lijkt mij leuk voor halloween party of andere party. Mooi donker parse gloss.
Mijn favoriete zijn Candy Apple en Golden ticket. Behalve aparte kleuren hebben, Lime Crime Carousel Glosses hebben super mooi gepigmenteerd en ik vind erg fijn glosses, zeker aanraders!
De Lime Crime Carousel Glosses kosten €15,95 per stuk (3.5g). bij Lime Crime webshop en of bij Nederlandse webshop Enchantra