Geen nagellak remover meer nodig? Wat? Ja…. je leest goed. Je hebt geen meer nagellak remover nodig om je nagellak op je nagels te verwijderen. Hei..hei… ik ben erg benieuwd naar en natuurlijk ben ik blij om deze nagellak voor jullie reviewen en swatches. Lees je mee

Little Ondine Nagellak – Red Red Wine zit in een leuke doosje. Wanneer ik de doos open, lees je aan de binnenkant van de doos informatie en papier. Wat ik opvalt is dat ik geen nare geurtje ruikt. Normaal zei mijn man…wat rare geurtje als ik net nagellak opdeed. Deze nagellak heb ik en andere mensen geen lasst van de vervelende geurtje. Little Ondine is volledig geurloos door het gebruik van pure natuurlijke ingrediënten en water. Het lakt makkelijk, het droogt snel en geen streepjes of brokkelt. De nagellak geeft mooi glans finishing. Wat ik nog interessant van deze nagellak is dat je geen nagellak remover meer nodig hebt door de unieke peel off methode. Ik was bang dat de nagellak snel los of chippen maar de nagellak blijft zo'n 6-8 dagen goed zitten.
Ik heb een Little Ondine in de kleur "Red Red Wine Dark Scarlet L061". Een prachtig diep wijn rode/bordeaux kleur. Het dekt goed met twee dunne laagjes. Hieronder de swatches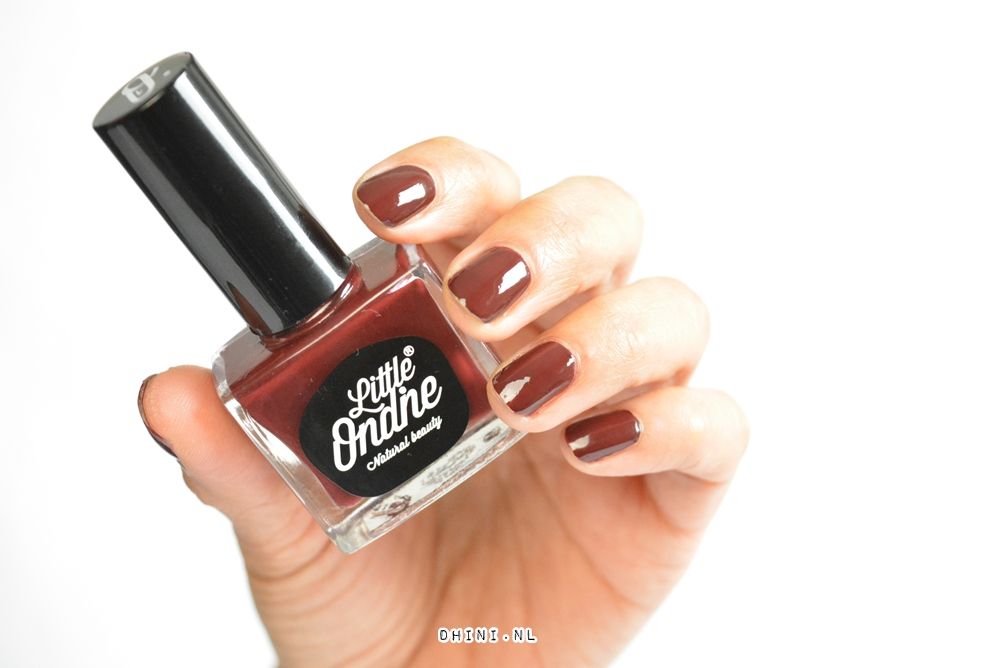 En nu hoe kan je deze nagellak verwijderen zonder nagellak remover. Er zijn drie manieren : Eerste : Je trekt gewoon de nagellak met je andere vinger en voila.. los die lakje. Tweede : In warm water eerst tot de nagellak zacht wordt daarna peel off de nagellak. Als laatste gebruik je alcohol pad (doe je zoals je nagellak verwijderen met aceton). Thuis heb ik alcohol pad, wel gewoon alcohol die ik op wattenstafjes en dan wrijf ik het op de nagellak. Het duurt een beetje lang om de nagellak goed weg. Ik vind de eerste en de tweede methode fijnste.

Ik vind te gek nagellak. Je kunt hem niet alleen voor thuis gebruiken maar het is handig om naar op vakantie of weekendje weg mee te nemen. Er zijn genoeg keuzen om de kleuren te kiezen want Little Ondine nagellak heeft maar lief 28 kleuren beschikbaar. Genoeg keuze dus. Shop je ze bij biocareonline, vul deze kortingscode dhini in, krijg je 20% korting.
Liefs,
Dhini

Volg jij mij al via Instagram, Facebook, Bloglovin, Youtube, Pinterest, Linkedin en/of Twitter?

Dit artikel bevat product(en) dat door bedrijf/merk is opgestuurd. disclaimer