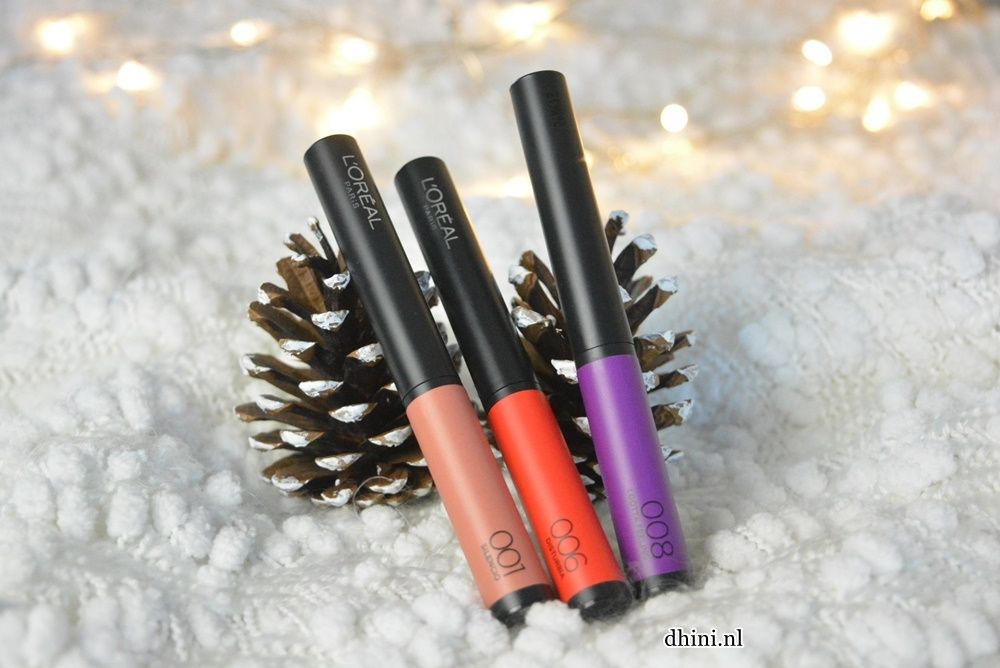 L'Oréal komt er met een bijzonder nieuw lipproduct "Infallible 3D Matte & ombre effect". Ik hen drie kleurtjes die ik ga voor jullie swatches. Deze nieuw lipstick heeft een poedertip aplicator. Poeder in lipstick? Ik had nog nooit gehoord en ik ben benieuwd naar

Alle eerste de verpakking. Ze zien er strak en simpel uit maar toch stijlvol. De hulzen is half zwart en half een sticker in de kleur van het product. Handig om te weten de kleur van lipstick door middel van de sticker die op verpakking eromheen.


Als je de huls open draait, komt er een zacht halfrond poedertip aplicator uit. Met deze zacht halfrond applicator breng je deze Infallible Mattte Lip aan. Met het puntje kun je de kleur ook netjes op je lippen aanbrengen.

De textuur van de lipstick is zacht en romig, lijkt het meer op voor oogschaduw dan een lipstick. Heel apart voor een lipstick. De zachte textuur blendt makkelijk in maar wel moet je meerdere keren aanbrengen want het effect is minder te zien. Je kunt de lipstick op je volle lippen inkleuren of andere effect experimenteren zoals ombre effect maken of gemakkelijk met andere lipstick kleuren combineren.

Ombre effect op mijn lippen

Eerste lipstick 001 Silencio is een zacht nude kleurtje. 006 Disturbia is een prachtig felle oranjerood kleurtje. 008 I gotta feeling is een mooi paarse kleur.
Ik breng de lipstick gewoon op mijn volle lippen. Op mijn lippen is de pigmentatie van de lipstick vrijwel minder te zien. Alle kleuren blijven wel goed lang zitten. Loop van de middag vervagen ze wel een beetje maar geen gekke randjes of kale lippen. Mijn lippen worden wel droog, zeker als je ze de hele dag dragen. Als je eerst lipsbalm aan, heb je minder last van droge lippen, wel niet te vet/nat want pakt de poeder niet goed. Dus veeg de balm even af op een tissue voordat je de lipstick aanbrengen. Het komt het wel goed!
De L'Oréal Infallible Matte Lip is al verkrijgbaar bij de drogisterij. Er zijn in de 6 vrolijke, felle kleuren beschikbaar. L'Oréal Infallible Matte Lip € 15,99

Fijne dag en geniet ervan!
Dhini
Dit artikel bevat product(en) die ik heb ontvangen van een merk, PR of bedrijf. Ook bevat affiliatie link disclaimer