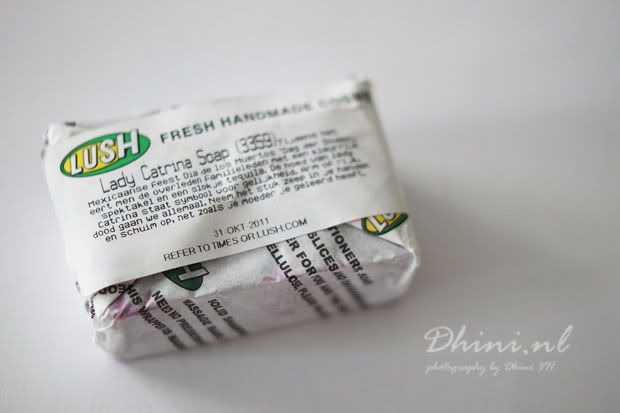 Nog een Lush zeepje heb ik hier thuis die ik vandaag voor jullie ga reviewen. De naam van de zeepje is Lady Catrina Soap. Lady Catrina is een van de symbolen van het Mexicaanse feest Dia de los Muertos, een welvarende dame met een schitterende hoed. Meer info + foto`s …

Ingrediënten
Water (Aqua), Rapeseed Oil and Coconut Oil (Brassica napus and Cocos nucifera), Glycerine (Glycerine), Propylene Glycol (Propylene Glycol), Perfume (Perfume), Organic Agave Nectar (Agave tequilana), Lime Oil (Citrus aurantifolia), Olibanum Resinoid (Boswellia carterii), Neroli Oil (Citrus aurantium amara), Sodium Chloride (Sodium Chloride), Sodium Stearate (Sodium Stearate), Sodium Lauryl Sulfate (Sodium Lauryl Sulfate), Sodium Hydroxide (Sodium Hydroxide), EDTA (EDTA), Tetrasodium Etidronate (Tetrasodium Etidronate), Citral (*Citral), Limonene (*Limonene), Linalool (Linalool), Hydroxycitronellal (*Hydroxycitronellal), Colour 17200 (Colour 17200), Colour 42090 (Colour 42090), Colour 45410 (Colour 45410), Colour 45350 (Colour 45350)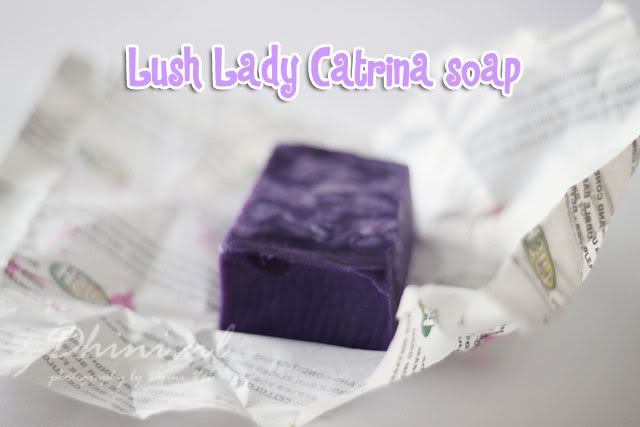 Deze zeep heeft een heerlijk zoete geur, naar fruitige snoepjes en het ruikt ook naar fris citroen. Het geurtje laat een subtiele geurtje achter op mijn huid en het maakt mijn huid lekker zacht. Ik vind hem super lekker ruiken! De zeep schuimt goed. Ik raad aan hem met een puff gebruiken want het schuimt er meer en het werkt heel zuinig.
Het kost €5,50/100g bij Lush.nl of in de winkel kopen.