Het is best niet leuk om de nagels niet mooi er uit te zien. Om je je nagels in topconditie te houden, introduceert Maybelline New York Dr. Rescue.


Drie Maybelline Dr. Rescue nail care producten.
Dr. Rescue Base Coat CC Nails:
Een kleurcorrigerende behandeling die dekt en de nagels witter maakt dankzij de optisch verhelderende formule. De coat kan afzonderlijk gedragen worden, of onder donkere lakjes om vlekken te voorkomen.
Dr. Rescue Protect Top Coat (gel effect):
Biedt de langhoudende, glossy shine en plumped look van een gel manicure zonder UV licht.
Dr. Rescue All-In-One:
Voor wie op zoek is naar een nagelverzorgende routine in a New York minute, biedt deze all-in-one een base coat behandeling én top coat, allemaal in één handbeweging.

Dr. Rescue Base Coat heeft creme licht roze. De textuur is goed. Het smeert fijn en droogt snel. Dr. Rescue Top coat heeft clear licht roze, de textuur is ook heel fijn en droogt ook snel. Het geeft mooi glans.

Hierboven zie je verschil zonder base coat en met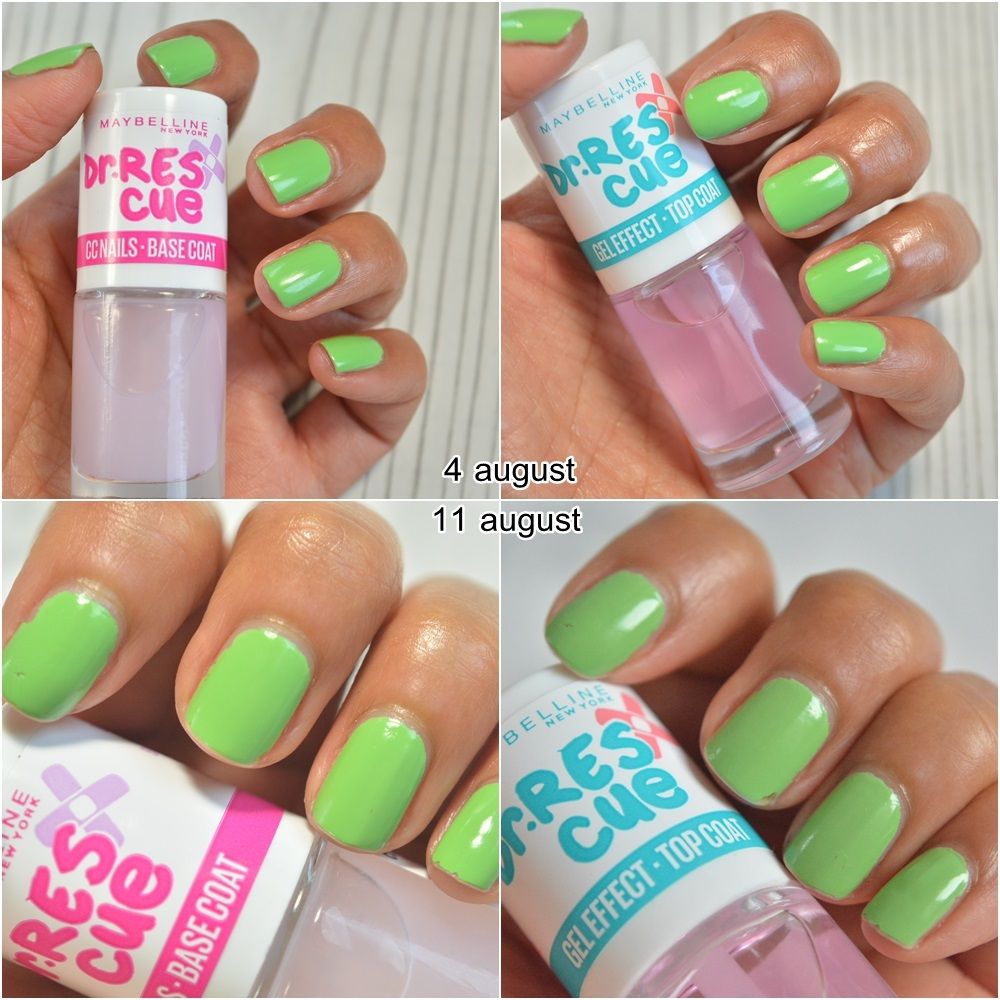 Op de nagels heb ik met beide Maybelline Dr. Rescue Base en Top coat gebruik. En de nagellak zien er goed uit, glossy shine en ze blijven goed zitten in een week. Dag 6 en 7 begin daar en hier de nagellak te chippen. Voor mij zelf is 7 dagen lang genoeg. Zeker fijn dat je nagellak nog goed eruitzien op lange dagen, zeker als je op vakantie of een week weg.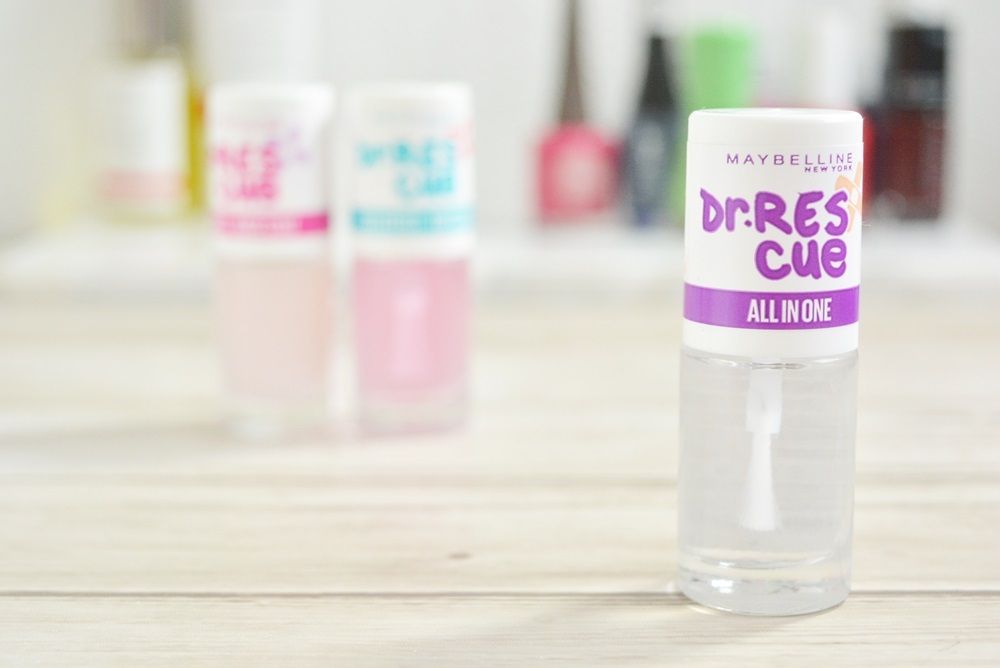 Dr. Rescue All-In-One is een base en top coat in een flesje. De base top coat heeft ook fijne textuur net als twee dr. Rescue nails care. Het droogt snel en je kunt hem als base en top coat tegelijk gebruik. Ik moet zelf wel wennen dat deze ook voor topcoat maar ook basecoat.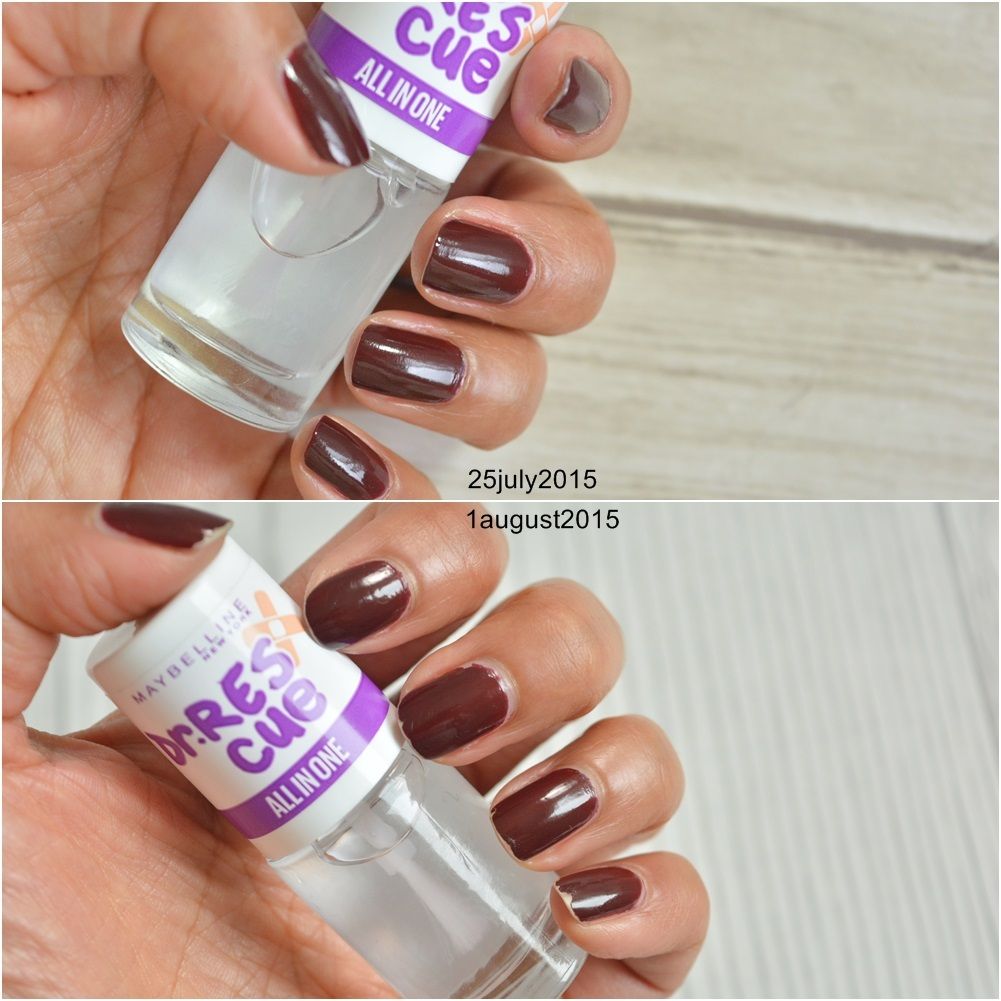 Hierboven liet ik de nagellak de heel week zitten. Einde van de week de nagellak begin te chippen. De nagellak blijven ook goed in 7 dagen en voor mij is best lang genoeg.
Maybelline Dr. Rescue nails care producten zijn heel erg fijn. De textuur is heel goed en het werkt zoals ik verwacht. Kortom is Maybelline Dr. Rescue nails care echt ideaal om je nagels/nagellak lang mooi/goed eruit te zien vooral als je op vakantie of een weekje weg. Maybelline Dr. Rescue Nail Care is als verkrijgbaar in de winkels voor €4,99 per stuk