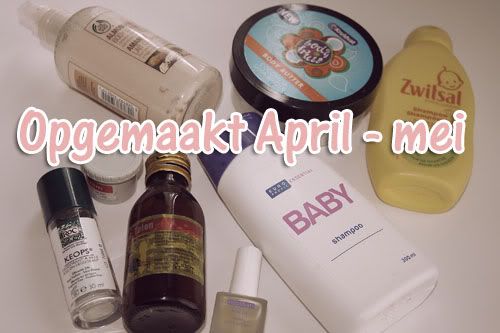 In twee manden heb ik en Djess een paar producten opgemaakt. Er zijn sommige niet op foto zoals pampers, lotiondoekje van Djess.

– Kruidvat Body butter Coconut&Shea Butter (re-kopen dezelfde geur en of andere geurtjes)
– The Body Shop Almond Milk Body Lotion (re-kopen)
– ROC Keop Deodorant (re-kopen) Review
– Kruidvat Nail oil (niet kopen meer want er niet meer)
– Euro Baby Shampoo (nee)
– Zwitsal Shampoo (re-kopen)
– Minyak Telon (re kopen)
– Sudocrem (nog hebben)
– Pamper (zeker re-kopen…oeh….ben vergeten hoeveel pampers op..zo veel zakjes al op, boros die Djess)
– Pamper lotion doekjes (zeker re-kopen….ook veel gebruik)
Hebben jullie ook veel producten opgemaakt?