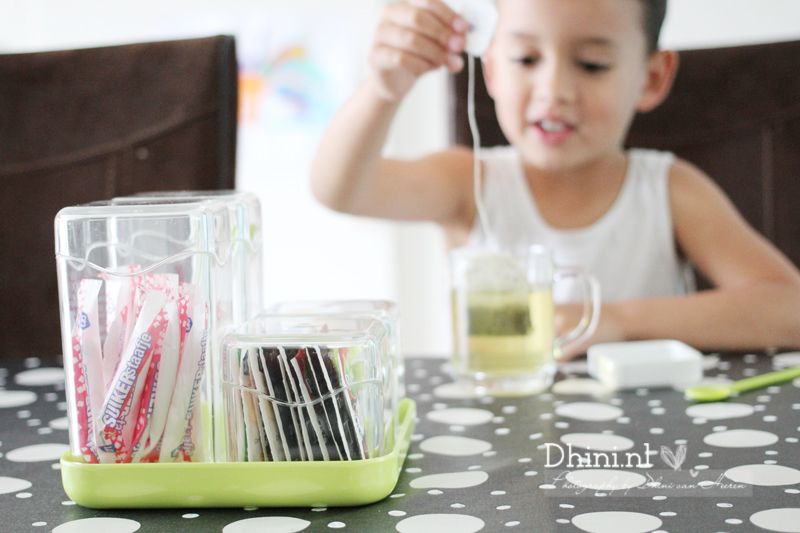 Huishouden doen en daarna tea drinken hoort bij elkaar. Ja.. als je pauze of klaar ben met opruimen dan neem je tijd voor je zelf. Een dagjes geleden ontving ik een pakketje met daarin heel leuke setje die ik heb besteld op Rosti Mepal. Wat zit er in het pakketje…kijk maar verder voor meer info en foto`s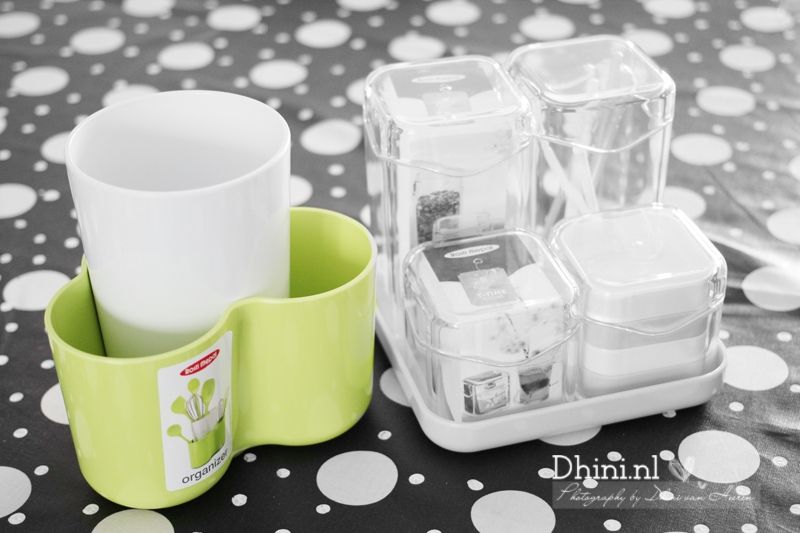 Toen wij het pakketje opende, zagen superleuke en handig setjes voor in huis. Een setje "Organizer" voor alle mijn keukenhulpjes. En een setje voor "Theeset T-time". Beide heb ik in lime kleurtje gekozen om iets fris sfeer te krijgen in onze huis.

Rosti Mepal "Organizer" bestaat uit twee losse onderdelen, handig om ze gemakkelijk schoon te maken. De twee onderdellen zijn een laag en een hoog. Ideaal setje om mijn alle keukenhulpjes te organiseren.


Van mij mag beide onderdelen iets hoger, maar verder ben ik happy. Nu staat de organizer leuk op het aanrecht en mijn keuken stuk fris met deze fris lime kleurtje. De keunkenhulpjes zijn makkelijk in handbereikt. Super ideaal en handig.
Rosti Mepal "Organizer" – Afmetingen (l x b x h in millimeters) : 170 x 124 x 165 | – Materiaal : Melamine
Rosti Mepal "Organizer" zijn er in vijf kleuren. Het kost €9,99

Rosti Mepal "Theeset T-time" Deze setje bestaat uit vier kubussen (2 grote en 2 kleine). Ze zijn in transprante bewaardoosjes voor theezakjes, suikerklontjes, melkkuipjes en theelepels.
In een kleine kubus zitten er al vier handige thee squares (theetipjes, 2 witte en 2 limekleurige) zijn bestemd voor het gebruikte theezakje. En de andere klein kubus kunt je de thee in doen. In de grote kubus zijn er al 3 witte en 3 limekleurige roerlepels. En de andere grote kubus kunt je gebruiken voor suiker of chocolade. De setje inclusief dienblad. Hoe handig en leuk. Zeker ideaal voor voor thuis of op het werk.

En mijn lieve kleine mannetje wilde mij graag helpen. Dj vindt het helemaal te gek en vroeg gelijk om samen thee te drinken.

Omdat wij zonder suiker thee drinken, doen wij lekker chocolade (andere alternatief) in de grote kubus. En die met lepetjes zitten er een paar suiker als er bezoeker(s) een suiker wilt hebben.
Elke dag wil Dj nu thee drinken en natuurlijk een chocolade erbij. Heerlijk samen genieten en tegelijks TV kijken.
Rosti Mepal "Theeset T-time" – Afmetingen (l x b x h in millimeters) : 170 x 170 x 150 | Materiaal :
Styrol methyl methacrylaat (SMMA) / melamine / styreen acryl nitril (SAN)
Rosti Mepal "Theeset T-time" zijn er in twee kleuren. Prijs €39,99 per set. Je kunt ook per onderdelen van de T-time theeset kopen en je kunt ook ze voor koffie toebehoren gebruiken.
Er zijn leuke spullen die ik buiten kunnen gebruiken zoals bij als lekker buiten in eigen tuin of ook pickinnken en of ga je kamperen dan natuurlijk heb je Kampeerservies nodig.