Park Avenue heeft nieuw producten in hun assortiment toegevoegd. Vandaag heb ik aantal producten voor jullie reviewen/swatches.


Park Avenue Terra Powder (Highlighter 01) – €5,95
Doorzichtige deksel met zwart tekst erop. simpel! De powder heeft een subtiele shimmers.



De pigmentatie is weinig aanwezig en erg poederig. Maar het brengt geen moeite en geeft mooi glans effect op cheekbone.
Nieuw Park Avenue Terra is in 3 kleuren beschikbaar : Terra Compact 03, Terra Compact 06 en Terra Highlighter 01

Park Avenue eye shadow Quattro 11 Pink – €4,95
Deze kleurrijke oogschaduw die ik ga swatches in Pink varient. De verpakking is exact dezelfde net als Higlighter. Maar bij deze zijn er vier vakken met verschillende oogschaduw kleuren. In de quattro zit er een kleine spons applicator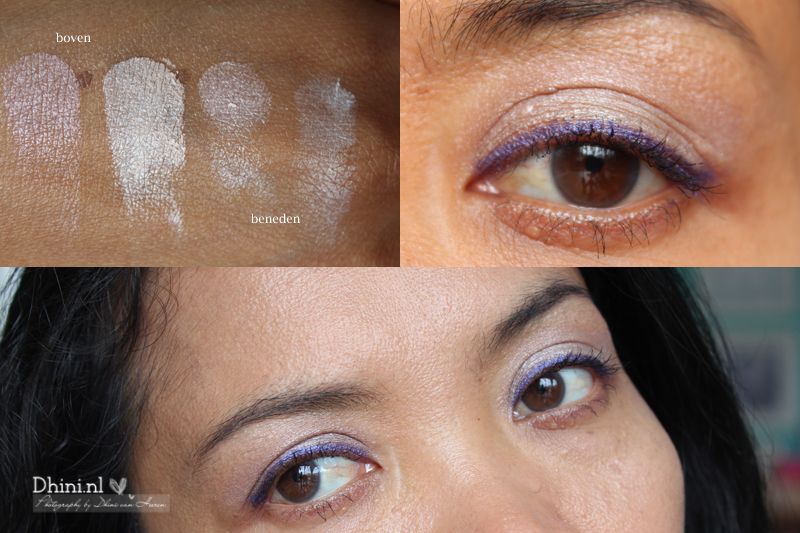 De licht quattro eye shadow met glans effect. De pigmentatie van deze quattro is niet zo spectaculair behalve de link bovenaan. Ze zijn best poederig en daardoor geeft de oogschaduw poeder weinig pigmentatie tijdens blenden. Maar als met nat aanbrengt, is de pigmentatie meer aanwezig. Het blijft goed lang zitten (nat aangebracht).
De nieuwe Park Avenue oogschaduw quattro palette is drie varianten met vier verschillende kleuren op een verpakking : Eye shadow quattro 11 Pink, Eye shadow quattro 10 burgundy en Eye shadow quattro 12 Turquoise.

Park Avenue Volume Pro Mascara (Black) – €4,45
Black verpakking met daarop white tekst. Simpel mascara verpakking zoals ik gewend ben.


De mascara heeft normaal borstel. Hoe meer laagjes je aanbrengt hoe voller je wimpers. Op de foto heb ik maar een laagje aangebracht. En ze zijn mooi en volume lengte krijgen. Geen klonter achter laten.

Park Avenue Mattifying Oil Control sheets – €1,95
De sheets zit in een handig verpakking die kan je overal mee te nemen.


Heb je last van vettige zones? Park Avenue heeft voor jullie oplossing gemaakt. Met Park Avenue mattifying oil control sheets zorg voor vette plekje op je gezicht.

PARK AVENUE guarantees an excellent European make up quality for a budget friendly price. Its Black & White image reflects a refined and intriguing elegance. Not only are luxury and style two main objectives of its vision, also the continuous screening of the latest trends are a priority.
bron : Park Avenue
Park Avenue producten zijn verkrijgbaar bij de DI in België.