Direct foto`s uitprinten vanaf mij smartphone wil ik al lang hebben. En staat het nog in mij wishlist, zie hier. Maar die is nog prijzig. Regelmatig kijk ik op internet rond of er is van dit soort gadget met mooi prijs. Een paar maanden geleden heb ik deze gadget Pickit M1 al binnengekomen en ik heb hem al gebruik. Vandaag laat ik aan jullie zien.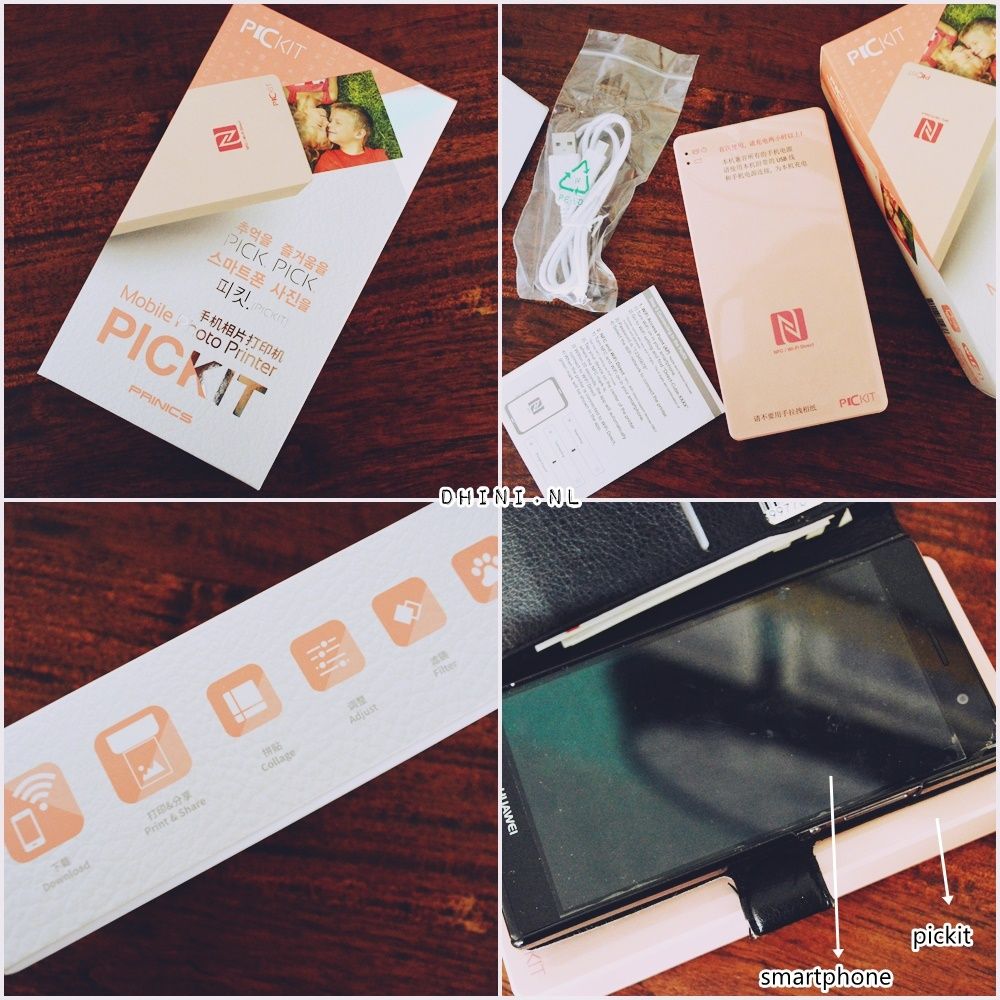 Pickit M1 zit in een mooi stevige doos met daarin informatie boekje en USB kabel meegeleverd. Op de zijkant van de box zie je dat er veel mogelijkheden hoe je de foto`s kunt bewerken, collage maken, stickers toevoegen. Maar alle eerste download je de PicKit Printer app. De formaat van Pickit is bijna net zo groot met mijn smartphone. Hij is niet zwaar om je hem overal mee te nemen. Wel zorg dat er WIFI verbinding hebben.

Aan en uit knopje op zijkant. De USB gaatje vind je op de bovenkant als de batterij leeg is, kan je daar weer opladen. De breed streepje komt er de foto uit. Als de Photocartridge op is, kan je makkelijk in de apparaat erin doen zoals hierboven op de foto.

Opladen maar zodat ik direct hem kan testen. De bovenste foto vind je handige informatie. Ik wist het niet dat er al photocartridge in de Pickit dus ik kan direct de foto`s printen.

Zo ziet er de Photocartridge uit. Hieronder heb ik al de tweede photocartrigde gebruik. Je kunt zien hoeveel minuutjes nodig tot de foto goed uitgeprint. Om de geluidje uit de apparaat niet storen (een beetje storen, vind ik persoonlijk) voeg ik muziek in de filmpje. Ik bewerk met snelheid of langzaam de filmpje niet.
[youtube]https://www.youtube.com/watch?v=fSBRVFQRLoo[/youtube]
ergeet niet mij kanaal te abonneren (gratis)

in mijn handen heb ik twee foto`s. Een met zwart op de achterkant uit fuji film instax camera en de andere de foto komt het uit Pickit. Best dunner dan die van Fuji instax maar het papier is waterbestendig en wel 100 jaar houdbaar. Dat is wel zeker pluspunt. Alleen test ik niet dus ik weet het niet.

Hier de voorkant van de foto`s naast elkaar (op het strand) Fuji Instax en Djess met pingu (Pickit). Superleuk zo`n gadget te hebben. Ik ben gek op. Deze Pickit M1 pink smart phone mobile printer is geschikt voor IOS en Android en ik heb bij Kamera Express gekocht voor € 53,99 + PC-20 Photocartridge (20 prints) + Inktcartridges.

Fijne dag en geniet ervan!
Dhini