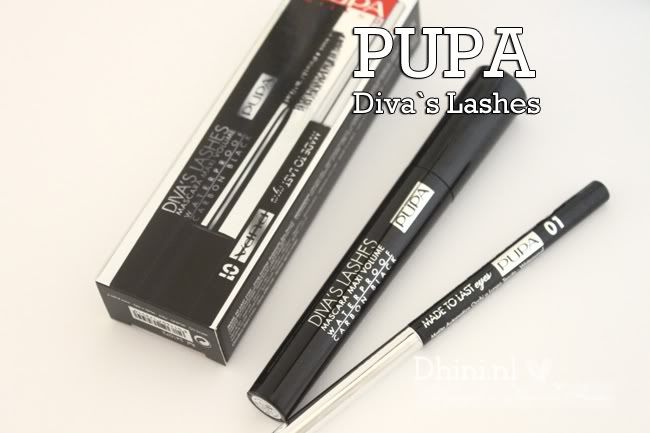 Waterproof! Ik draag graag waterproof mascara en eyeliner want als ik fiets en veel wind, krijg ik tranen in mijn ogen, regen of zwemmen, wil ik niet mijn ogen zwart door mascara of eyeliner.
Pupa komt met een nieuwe Diva's lashes mascara: Diva's Lashes Waterproof Black. Waterproof dan ben ik erg enthousiast want ik zoek de echte waterproof. Meer hierover…




In de kit zitten er twee producten een mascara en een eyeliner potlood. Handig zo`n kit om samen overal mee te nemen.
Mooi verpakking met zilver tekst erop.


De mascara heeft best grote borstel. Ik voel mijn wimpers zwaar aan maar het geeft mooi lang volle wimpers. Met twee laagjes krijg je spinnenpoten effect dus zorg dan niet te dik aanbrengen. Waterproof is zeker dus geen zorgen als je gaat zwemmen of in de regen lopen. Op de foto heb ik twee laagjes gedaan.


De eyeliner potlood heeft een puntenslijper op de achterkant als die open, handig!. Ik was toen echt zoeken…zoeken..waar is de puntenslijper. Het potlood is lekker zacht, alleen jammer dat een beetje snel afbreekt van het puntje. Maar verder is hij fijne potlood eyeliner. Het blijft goed zitten.
De mascara met eye-pencil kost €15,95 op pupawinkel.nl en er is een actie 2 voor €25!