De nieuwe nagellak van pupa is Pupa Lasting color Extreme Nail Polish ('No Lamp Polish'). Deze nieuwe nagellak is revolutionaire 3 steps nagellak. Vandaag vertel ik meer hieronder. Lees je gauw mee

De Pupa Extreme Primer and Top Coat launchkit zit in een goudaccent doos. De doos ziet er luxe uit. Er zitten een een Extreme Primer/basecoat en een Top Coat. Beide producten zitten in een matte flesje. De transprant matte fles is een Extreme primer en de zwarte matte fles is Top Coat. De formula van de base coat is vrij dik maar het droogt snel. De Top coat droogt het ook snel. Deze voordeelkit om in combinatie met de Pupa Lasting color Extreme nagellak te gebruiken.

Ik swatch een Pupa Lasting color Extreme Nail Polish "strawberry juice – 36" is een prachtig fel roze tint. Het lakt fijn, zonder strepen en een laagje dekt het prachtig. Het resultaat is een prachtige heldere kleur en je hebt geen UV-lamp om de nagellak laten uitharden.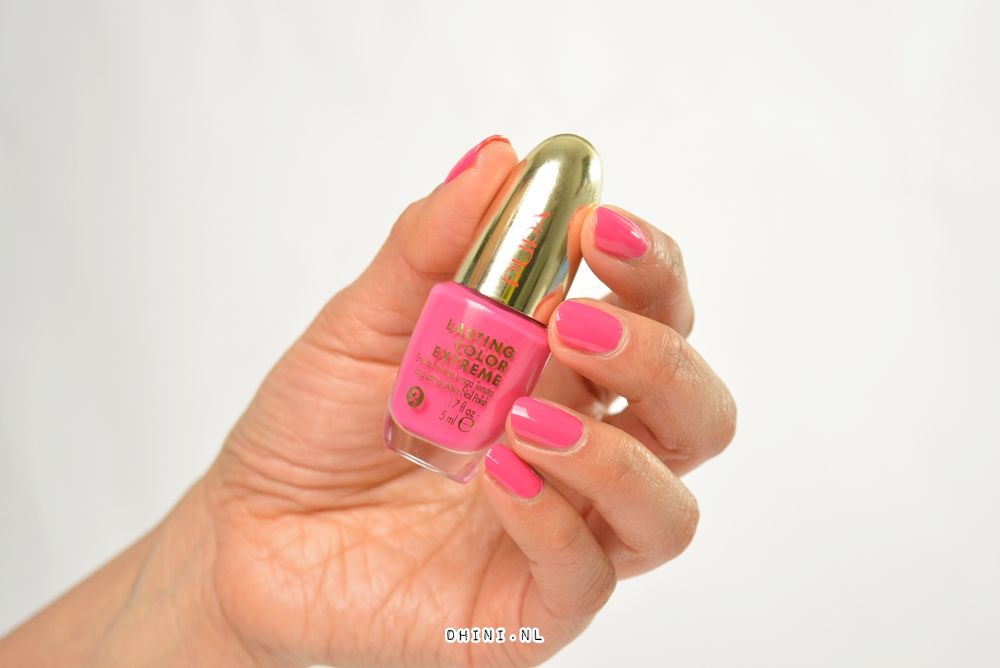 De nagellak blijft goed lang zitten meer dan 7 dagen (zie foto boven). Bij de top van de nagels (de randje) is een heel heel klein beetje te chippen, niet heel extreem dat is gebeurd op de 5de of zesde dag. Maar hé ik werk veel met handen en verder ziet er de nagellak nog goed uit, geen extreme chippen dus. Voor thuis vind ik persoonlijk te lang om 7 dagen dezelfde kleur te dragen. Maar voor als je niet zo veel tijd of een weekje weg of op vakantie bent, is deze nagellak zeker fijn om lang te dragen. Want je nagellak zien er nog mooi uit gedurende vakantiedagen. De nieuw Pupa Lasting color Extreme Nail Polish €8,50 per stuk & startkit (primer en top coat) €17,00 € 14,95. Te bestellen op Bellamilan
Liefs,
Dhini

Volg jij mij al via Instagram, Facebook, Bloglovin, Youtube, Pinterest en/of Twitter?

Dit artikel bevat product(en) dat door bedrijf/merk is opgestuurd. disclaimer