Dat is heeeeeeeel erg lang geleden dat ik een recept update. Vandaag wil ik toch deze recept delen.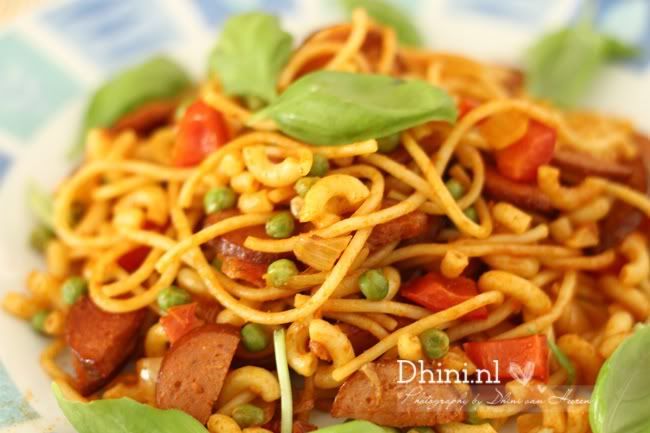 Wat heb je nodig :
– 150g macaroni
– 150g spaghetti
– 3 lepel Tomaat puree
– 2 verse tomaat (snijd in blokjes)
– 2 Knoflook
– 50 tuinerwten/doperwtjes
– 1 runderrookworst (dunne snijden)
– 1 paprika (snijd in blokjes)
– 3 takjes basilicum
Bereidingswijze:
– Kook spaghetti en macaroni zoals aanwijzingen, als goed gaar, laat het uitlekken.
– Bak de runderrookworst samen met knoflook. Als goed bruin, voeg de paprika toe en
– voeg tomaat pure en verse tomaat in blokjes, en dan voeg de spaghetti en macaroni samen toe, goed roeren.
– Nu voeg je de tuinerwten, zout en peper toe. Klaar!
– Schep op boorden en vergeet niet basilicum blaadjes
Tip : Als je van pittige gerechten houd, vervang paprika met chili paper of eet je deze met chili paper of sambal oelek. Lekker!
Selamat makan!