21 Drops is een moderne aromatherapie parfumes van therapeutische. Deze zijn gemaakt van
100% naturel, organiek or wild crafted. Ik heb er zelf 3 van in mijn bezit : 01 Drained? (Invigorate), 07 Moody? (Equalize) en 21 Blocked? (Inspire).

Wat zei 21 drops :
Aromatic molecules from the essential oils are carried through the nasal cavity via olfactory nerves to the limbic system in the brain. The limbic system influences the endocrine system and the autonomic nervous system.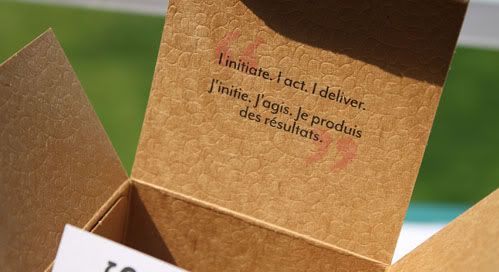 01 Drained? (Invigorate)
Blended from cedarwood wood oil, rosemary leaf oil, black pepper dried fruit oil and juniper fruit oil to stimulate circulation, motivate and energize. These warming oils help oxygenate the blood and promote blood flow, which in turn energizes the body. This blend is about getting the fire started. Invigorate helps you initiate, act and deliver.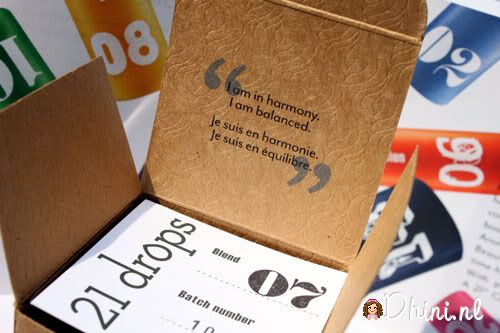 07 Moody? (Equalize)
Blended from sandalwood wood oil, palmarosa grass oil, rose flower oil and frankincense resin oil to ground, support and balance. The oils in this blend work with the limbic system to help stabilize things. They relax the nerves, steady the heart and calm the mind. This blend is about easing fluctuating moods and bringing you back to center.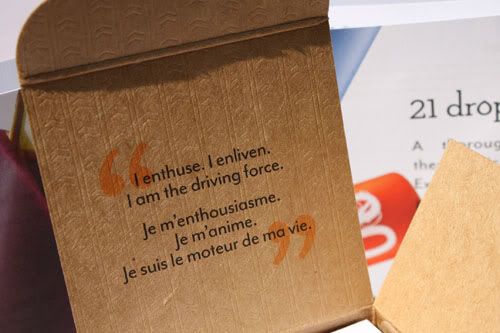 21 Blocked? (Inspire)
Blended from cedarwood wood oil, sandalwood wood oil and black pepper dried fruit oil to release blocked energy, increase creativity and inspire action. The oils in this blend are transformative and enlivening. Inspire helps to spark productivity and crystallize vision. You inspire and are inspired. You are the driving force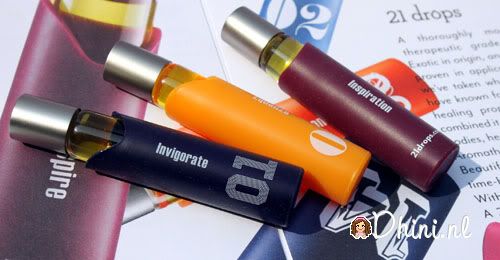 21 Drops Aromatherapie parfumes (rol on) $28.00 – 8,5ml. Op elk doos heeft het gekleurde nummer van de blend op de voorkant, de doos heeft mooi kleur, stijl. Elke flesjes hebben eigen kleurtje rubberen hoesjes en bovendien de flesjes zijn handig overal meenemen.
01 Drained? (Invigorate)
De geur is zacht kruidige geur. De geur is langzameer vervliegt maar ik krijg energie van als deze geur ruiken. Goed voor mij ..energie nodig voor alles.
07 Moody? (Equalize)
Ik ruik friss zacht kruidige geur. Als gestrest ben, ruik je deze geur dan krijg kalm, relax van. De geur blijft redelijk lang hangen. Echt aanraders!
21 Blocked? (Inspire)
Deze vind ik het ook echt lekker geurtje. Deze geur is ook zacht kruidige geur maar ik merk niet zo dat ik de inspiraties, creaties krijg. Maar de geur is echt lekker…my geur. De geur blijft lang hangen en iets sterker dan twee andere geuren.
Ik vind alle drie lekker aromatherapie geurtjes. Alle drie zijn Door deze geur krijg ik balans van. Als je je energie, inspiraties, motivatie, emoties kwijt is deze geur voor jou. Echt aanraders dus!
Voor meer info en bestellen van de producten kan je bij 21drops bestellen.
Deze product/s heb ik gekregen voor review/swatches