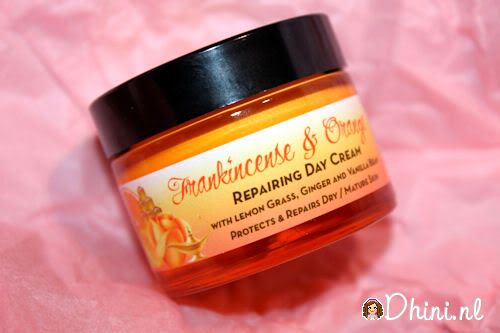 Vandaag ga ik 2de dagcreme van merk Cupcake Organic serie reviewen. De dagcreme die ga ik reviewen is "Frankincense & Orange Repairing Day Cream".

Hieronder lees je de ingredient


Deze crème is vooral geschikt voor de droge of wat oudere huid (rijpere huid). Het ruik naar citroen en vanille. De citroen geur ruik echt strek. De crème vind ik iets dik voor mij persoonlijk maar je hebt maar een beetje nodig voor het hele gezicht. De crème trekt vrij snel in. Het maakt myn huid zacht aan, alleen voel ik me dat ik een dagcrème aan, klinkt het misschien raar maar ik voel me dat gewoon, gelukkig is het niet echt storend in dit geval.
Heb je ervaring met deze crème? En wat vind je daarvan?
Elke crème van Cupcake Organic kost 16,77 in de webshop of bij Echantra € 19,99.
Benieuwd naar één van de andere crème, klik hieronder :
cupcake organic raspberry rose blossom/

Deze product/s heb ik gekregen voor review/swatches