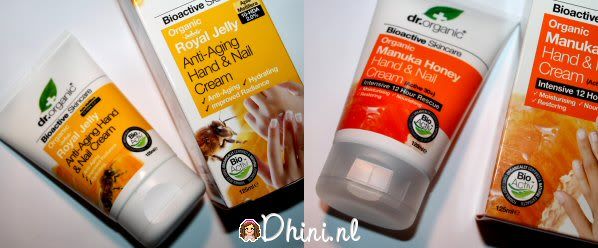 Om mooie handen en nagels hebben, natuurlijk moet goed verzorgd. Vandaag de derde 2 producten van dr. Organic namelijk Hand en nagelcreme. Ik heb twee Royal Jelly Anti-Aging Hand & Nail Cream en Manuka honey & Nail Cream.

De producten hebben dezelfde vorm verpakking TUBE dus handig om in je handtas te stoppen, alleen de labels/stickers heeft eigen kleur. Die van Royal Jelly is gele label/sticker met bee en Manuka orange label. De kleur van de cremes zijn dezelfde wit, alleen de geur anders. Hieronder lees je de ingredienten in Royal Jelly Anti-Aging Hand & Nail Cream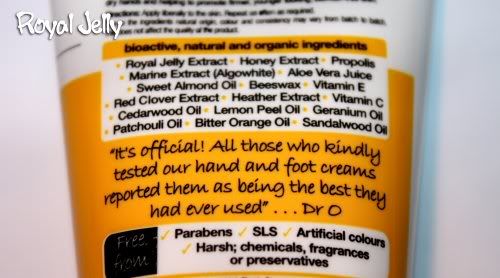 Hieronder lees je de ingredienten in Manuka honey & Nail Cream.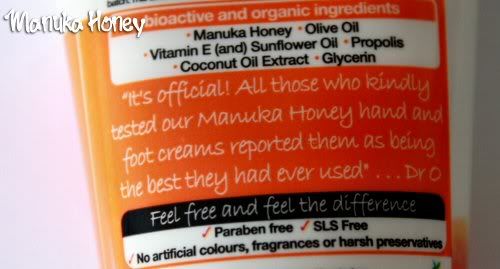 Beide cremes zijn echt makkelijk op je handen smeren en trekt snel in, smoooooth zou ik zeggen…heerlijk. Beide heeft eigen geuren. De geur van Manuka Honey creme ruik ik naar honing maar fris en iets zoet, niet te overhersend. En die van Royal Jelly creme ruik ik naar honing. Wat lekker vindt, behalve beide geuren, ik voel me myn handen heerlijk zacht, glad, myn nagels zien er ook gezond uit en myn handen goed gehydrateerd. Volgens dr. Organic zijn beide cremes 12 uur lang goed verzorgen maar bij mij blijft de verzorging minder dan 12 uur, zoals op de verpakking staat of omdat misschien moet ik vaak myn handen gewassen worden na Djess verschoon. Verder ben erg tevreden met beide cremes. Ik gebruik beide elke dag..een ligt in my nachttafel en een op my bureau dus kan makkelijk te pakken 😀 je kan hem opsmeren zolang je maar wilt.



Pluspunten:
– zacht en gladde handen (smooooooth)
– heerlijk geuren
– gehydrateerd
– paraben free, SLS free, No articial colour, fragrances or harsh preservatives
Minpunt :
– minder dan 12 uur verzorging
Voor meer info, kijk op Dr Organic website of kan je bij de tuinen kopen €6,99 – 125 ml.
Deze product/s heb ik gekregen voor review/swatches