Een andere product van Liz Early dat ik erg geweldig vind is "Brightening Treatment Mask™". Want het werkt echt prima bij mij. De product is starter kit en wat er zit in een bag : Brightening Treatment Mask en een muslin cloth.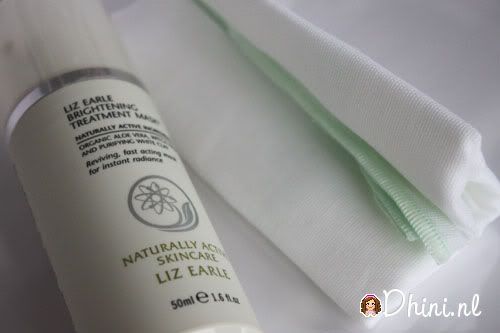 De ingredienten :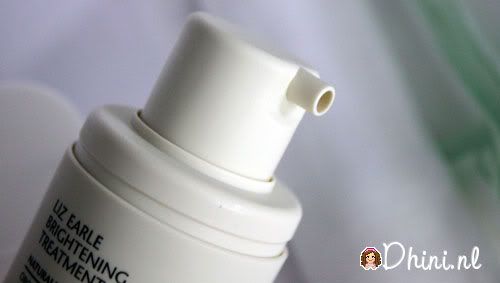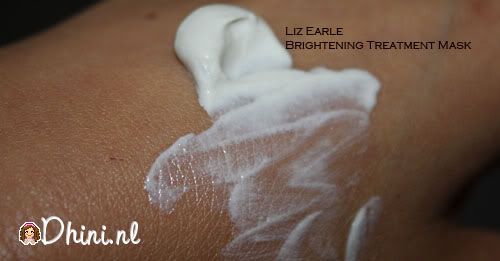 Wat zei Liz Earle :
Our fast-acting 'minute' mask instantly revitalises. Containing stimulating camphor oil and toning witch hazel to help give your skin a natural-looking radiance.
Brightening Treatment Mask™ (pompje) – £13.00 – 50ml. + muslin cloth De verpakking is simpel maar met handig pompje. Hierdoor kan je zelf makkelijk de juiste hoeveelheid bepalen. Wat ik opvalt is de geur. Pepermunt/ munt-geurtje is erg aanwezig maar ik vind het erg lekker..ja ik hou van munt-geurtje. Door de geur voelt tot de ogen dus let wel op niet rondom de ogen maar gelukkig vervliegt het snel. De cream is erg dun, iets waterig maar het makkelijk insmeren en het droogt echt snel zoals Liz Earle belooft…dat is natuurlijk voordeel als je niet zo veel tijd hebt. Binnen seconden is het droogt daarna met hete muslin cloth maakt je je gezicht schoon met zachte bewegen…volg richting de klok. Ik kan meteen merken hoe zacht myn huid is geworden, my poriën onzichtbaar en stralend. Je kan hem elke dag gebruiken of gebruiken wanneer je huid heeft behoeften.
Ik ben erg tevreden met deze mask.. het werkt zoals het belooft.
Pluspunten :
– Handig en fijne verpakking.
– Binnen seconden droogt.
– Heerlijk geurtje.
– Mijn huid voelt zacht aan en verzorgd.
– my poriën onzichtbaar en stralend.
– Elke dag kan gebruiken.
– Smeer makkelijk in
Minpunten :
– Online te koop op LizEarly
– Niet geschikt voor sensitive huidtype
Andere prodcuten die ik erg enthousiast over kan je op deze Review, Review klikken.
Deze product/s heb ik gekregen voor review/swatches