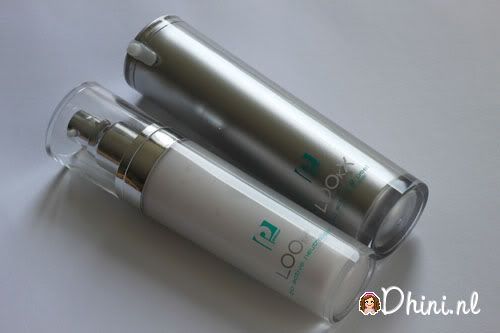 LOOkX introduceert Bio Active Peel treatment, is een professionele behandeling voor een huid met tekenen van huidveroudering maar ook een rokershuid, onrustige acne-huid of zeer droge huid. Een peeling lost dode huidschilfers op, verfijnt grove poriën en zorgt voor een egale teint met een stralende gloed. Er zijn 2 twee varianten die voor thuis kan gebruiken : LOOkX Bio Active 2 Peel & LOOkX Bio Active Neutraliser

LOOkX Bio Active 2 Peel (met pompje) – 49.00 – 40ml. zorgt voor een intensievere verfijning voor een huid met tekenen van huidveroudering.
LOOkX Bio Active Neutraliser (met pompje) – 24.95 – 50ml. vermindering van rimpels, verheldering van teint/pigmentvlekjes.


De flesjes zien er lux uit in zilverkleurtjes en bovendien handig en hygiënist (pompje). Peel 1 is doorzichtige gel, het ruikt iets naar lijm, niet te dus niet storend. De peel breng je een of twee keer per week aan (gebruik niet vaak) op een goed gereinigde huid. Twee pompje is voldoende voor je gehele gezicht, five tot tien minuten laten intrekken. Daarna spoel met lauwwarm water.
Daarna dep de huid goed droog en vervolgens breng de LOOkX Bio Active Neutraliser aan. De crème is speciale nabehandeling stabiliseert de PH-waarde van de huid en direct na de peeling een extra verzorgende boost te geven. De crème ruik ik iets naar aftersun, niet storend want het ruikt niet zo sterk.
Na deze behandeling voel ik myn huid echt zacht aan. Myn tekenen van huidveroudering, drooglijntjes en de pigmentvlekjes lijken vermindert en my huid stralend.
Tip : Deze producten is een aanraders om de huid voor te bereiden op een laser of microdermabasie behandeling.
De LOOkX Professional Bio Active Peel producten bij de LOOkX salon te koop. Voor meer informatie en adressen kijk op lookx

Deze product/s heb ik gekregen voor review/swatches