De Lipbalm in schelp dat is toch leuk maar belangrijk is de inhoud van de lipbalm. Oragnic Island Shell Balms zijn gemaakt van biologische producten! Er zijn in 6 verschillende schelpen. De lipbalsems die ik heb zijn in White Frangipani en Oriental Fan in 2 kleuren schelpen (Orange en Paars) € 11,95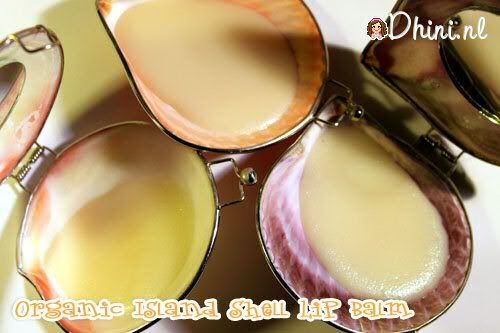 De lipbalsems bestaan voor 100% uit natuurlijke ingredënten zie hieronder op de label en zit in echte schelpen en verpakt in bruine zakjes. De lipbalsems zelf zijn kleurloos, het ruikt naar heel lichte kokos. De balsen zijn hard maar het smeer makkelijk in en maken myn lippen zacht. Ideaal voor basic onder je lipstick of lipgloss. In elke schelpen zijn er spiegeltje, alleen jammer dat de schelpen een klein beetje open aan de zijkant dus gebruik de bruine zakje als deze lipbalsems in je tas mee te nemen. De schelpen zelf vind ik prachtig en ik leg liever op my tafel of op bureau als decoratie en bovendien die is leuk als cadeau voor je of iemand anders.
Organic Island Shell Lip Balm is te koop bij Enchantra en op de Organic Island website voor meer info. Ga zeker even kijken!
Deze product/s heb ik gekregen voor review/swatches