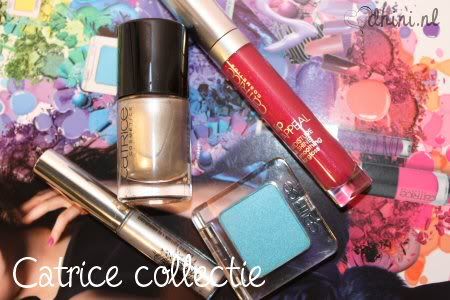 Het assortiment van Catrice wordt venieuwd zoals de nagellakjes, oogschaduws etc. Leuk he want de nieuwe dingen van Catrice zien er erg goed uit!



Lip Appeal Moisture & Shine Lip Gloss
Ik heb nog geen gloss van Catrice en deze dus 1ste voor mij en ben erg onder de indruk. De applicator is fijn in gebruik. De verpakking vind ik het best mooi. De gloss ruikt lekker naar zachte vanille en brengt makkelijk aan op je lippen. Ik voel me myn lippen de hele dag zacht aan en de gloss is niet plakkerig…het is natuurlijk fijn. Het geeft glans. Deze glos verkrijgbaar in tien kleuren. Het kost €3.79 per stuk

Absolute Colour Mono Eyeshadows
De oogschaduw heeft mooi gepigment en goed dekking. De verpakking is lekker simple maar best mooi (vind ik dat). Er zijn 32 trendy kleuren in glanzend, metallic en satijglanzend. Prijs €2,79 per stuk.


Liquid Eyeliner Glamourama
Deze zilver eyeliner zit in nice verpakking. Het maakt je look een xtra feestelijk met deze zilver eyeliner. Eerlijk ben ik niet zo van glitters/shimmer eyeliner maar voor feest is het perfect.
Prijs: € 2,49 p/s er zijn 2 soorten in C01 Mirror, Mirror… en C02 Rock the Party


Nail Laquer Be my Millioenair
Deze lakje is vernieuwd? ik heb de oude en ik zie niet dat het vernieuwd is. Het is misschien qua de kleur vernieuwd. ik heb de oude nog niet geswatches dus ik kan niet vergelijken..dezelfde of niet?! Maar er komt binnenkort de post hierover.
De lakje kost €2,49 p/s
De vernieuwde Catrice-collectie is vanaf november bij Kruitvat te koop.
Deze product heb ik gekregen van Catrice