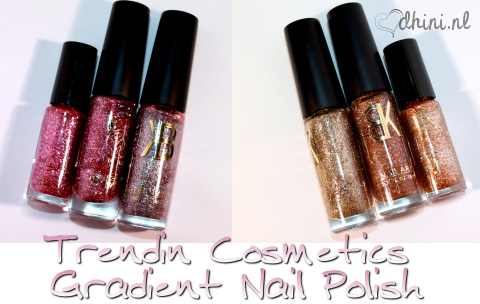 Zoals iedere heb ik verteld dat Trendin Cosmetics niet alleen Crack Nail polish (Review) heb maar ze verkoop ook andere nail polishes o.a. Gradient Nail Polish. Ik heb in 2 setje : Gold setje en Rose setje.

Er zijn 3 flesjes in de Gradient Nail Polish setje van Trendin Cosmetics. De lakjes zitten in simpel/gewone flesjes. Het dekt erg fijn en droogt best snel. Het is geurloos…Ik vind het beter dan ruik naar chemische geur. Ze zitten 1-3 dagen. Ik doe gewoon met kwastje (zonder spons dus en dat vind ik pluspunt) thank to Deb maar het kan ook met spons. Je kan combineren om de gradient effect te maken met alle 3 kleuren of 2 kleuren gebruiken. En ook kan je de donker kleur op de top van nagels of andersom. Het is lekker bling bling. Ik kijk elke keer naar myn nagels want ik vind ze erg mooi. Voor gewone dagen en ook voor feestelijk sfeer.  Jou xmas look compleet met deze prachtige gradient nail polish.
Het is beetje moeilijk eraf te halen maar met aluminium sytem is het wel makkelijk om die nagellak te verwijderen.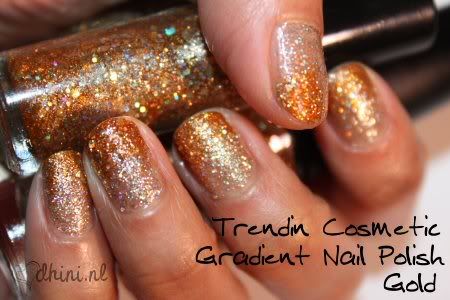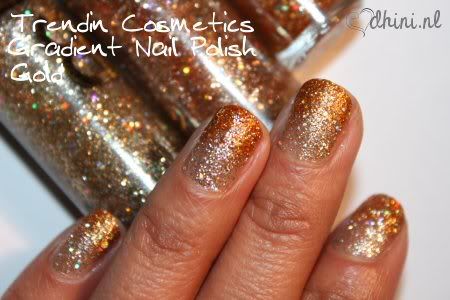 Pluspunten :
– Dekt goed
– Non-toxic
– Droogt best snel
– Het stink niet
– Gewoon met het kwastje zelf
– Het kan met sponsje
Minpunten :
– Prijzig
– Online bestellen
Gradient Nail Polish setje kost $ 18.00 bij Trendin Cosmetics Ze stuur international (including free shipping worldwide by normal post.) Er zijn 7 kleuren Gradient Nail polishes.
Deze product heb ik gekregen van Trendin Cosmetics