Na mini manicure gekregen bij Douglas lees!. Ik wil weer gemanicuurd worden want ik heb niet zo mooie nagels hebben vooral de rechte kant. Myn rechte nagels zijn niet goed verzorg (logisch want de rechte kant zorg ik niet). Ik gebruik nu The Perfect System van Trind. Deze nagel nagelverzorgingssysteem zitten zes producten : Cuticle Remover, Cuticle Balsam, Nail Balsam, Nail Repair, Hand creme en een boekhandleiding. In dit boekje vind je de gebruiksaanwijzing. Volgens de Trind binnen twee weken tijd krijg je perfecte nagels.

De verpakking vind ik het mooi flesjes. Het ruikt lekker, iets fris..aangename geur dus en de geur van handcreme is zo lekker en voel je je handen zacht aan. Ik vind de stick te klein…mag iets groot/breed zijn. Na gevolg zoals in de boekje, myn nagels ziet nu er mooi, glans en gezond uit. Ik ben heel erg tevreden met resultaat. Ik doe met plezier nu om myn nagels te verzorgen met deze nagelverzorgingssysteem. Echt aanrader dus om thuis manicure in eigen tijd te doen.
De Nail Repair zelf kan je gebruiken als base coat.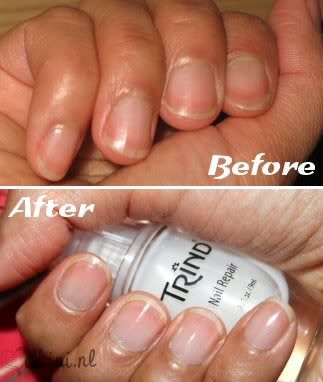 Oja…ik gebruik ook voor myn tenen en nu myn tenen zien er gezond uit.
Pluspunten :
– Mooie verpakking
– Het ruikt lekker
– Hand Repair bevat Duo-Liposomen en het vitamine A, C, E complex
– Hand Repair als base coat
– Myn nagels mooi, glans en gezond
– Geschikt voor alle nagels en huidtypes
Minpunt :
– De stick te klein
Trind producten kun je kopen bij Etos, Douglas of in de webshop van Trind. De complete Perfect System set kost EUR 39,95 en de producten zijn ook los te koop.
Deze product heb ik gekregen van Trind