Gisteren op my site vertelde dat wij naar stad geweest en myn lieve man had waardebon t.w.v. 50€ Best veel toch..! en kan bij Rituals winkels in ruilen en dat deed hij ook :yay: …ben heel erg blij mee want hij wilde die waardebonen samen met mij delen maar Ik zei…dit moet echt voor jou zelf.. Echt waar! en dat deed hij ook…Goed zo myn lieve man…!
Wel lief he van hem dat met mij samen wilde delen :muah:
Bij Rituals winkel zochten wij samen leuke dingen voor hem uit. En hieronder zijn ze…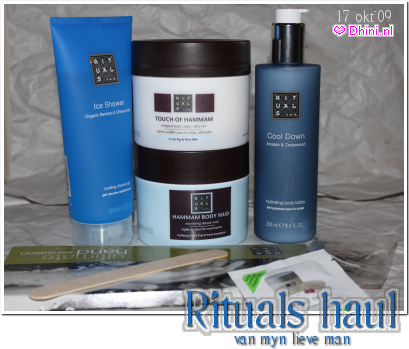 v.r.n.l. : Shower gel Ice Shower, Hamman Body mud (onderste), Touch of Hamman body lotion en Cool Down body lotion.
Voor.. sachet Hand Therapy €2.90 ofzo… en samples Magic Touch en thee zakje.
Bij de casier zag Ik een paar samples voor verkoopster`s neus in de potjes maar ze gaf niet die samples en dus zei Ik tegen haar "Mag Ik sample hebben?" (Brutaal of durf? denk…brutaal he..van mij). En myn lieve man zei toen..Zo durf je te vragen! Ja…natuurlijk want wij toch wat gekocht..en Ik herinnerde mij dat myn oude collega M ooit gezegd toen wij bij Rituals langs kwamen.. M zei.. "Ga je maar vragen voor samples?" Ik durfde niet want Ik kocht niks behalve wat gekocht dat ga Ik zeker vragen. En dat deed Ik ook gisteren. Die verkoopsters zei toen… "Ik heb in de tas gedaan! en Wilt u ook thee zakje bij?"
Thuis zag Ik maar een sample van Magic Touch en zakje thee. Ze zei toch een in de tas heeft gedaan maar waar? is maar samples die Ik heb gevraagd. Raar …voor wat dan die samples bij de kassa. Of misschien moet andere zinnen gebruiken "Ik wil graag samples erbij hebben" —misschien deze beter…!
Bij de Douglas :heart: krijg Ik meestal samples zonder te vragen. Het maakt niet uit wat je koop. Toch…leuk voor de klanten samples krijgen of niet?! Ik wel :yes:
[warning]my categories zijn weer verwijdnen… Schandaal! Waarooooooooooooooo? :angry: 🙁
Ik weet het niet wat het moet doen 🙄 🙄 Irritant.. MAAR hoop van zelf weer verschijnen..please..! [/warning]
Myn lieve man heeft vandaag lekker gescrub met die Hamman body mud en ingesmeerd met Touch of hamman. Zijn huid word zacht en ruikt lekker ook..hmmmm
[note]Gisteren avond kreeg Ik amplopje van onze buurman voor onze baby. Dank je wel buurman K[/note]
Hebben jullie ervaring bij Rituals winkel?
Ik wens jullie fijne zondag toe…
Liefs,