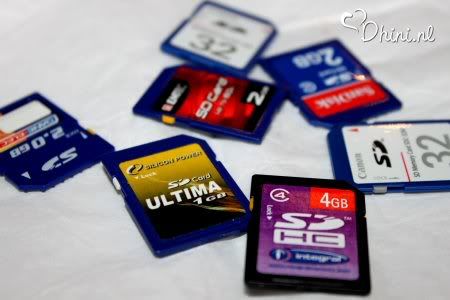 Gemiddeld heb ik 12 SD (HC) kaarten : 2 SD 32M, 1 SD 1GB, 4 SD 2GB, 3 SDHC 4GB (1 niet op foto), 1 SDHC 8GB (niet op foto). Die niet op foto kan ik nergens vinden 🙁 want ze zijn al vol. Ik ben vergeten waar heb ik verplaatsen tijden huis schoonmaakte. De SD kaarten gebruik ik voor Canon Powershot A620. De SDHC kaarten gebruik ik voor Canon EOS 550D en camcorder SIGMA Xacti A10. 10 van die kaarten zijn allemaal vol…vol..en vol…! Behalve 2 kaarten 4GB SDHAC en 4GB SD die kan nog voorlopig not wat foto`s maken.

Gisteren wilde ik nog een van 8GB SDHC weer kopen bij Kruidvat..eigen merk maar Kruidvat bij ons in de buurt geen meer 🙁 Dus nu kan niet film maken 🙁 Eigenlijk wil ik heel veel filmpjes maken.
De laatste tijd heb heeeeeeeeeel veel foto`s gemaakt van Djess, andere dingen tot beauty producten. Misschien vragen jullie wel af…je kan toch in je computer die foto`s/filmpjes in hardschijf zetten/opslaan. Ja… I know maar het probleem is my laptop is ook vol 😀 En heb weer scrap elementen verwijderen, moet wel anders krijg ik waarschuwing…tring…"Er zijn onvoldoende hardschijf". Elke keer als ik wat foto`s of filmpje in my laptop zetten. Myn lieve man zei…Koop dan 1TB extern hardschijf dan kan je je SD(HC) kaarten leegmaken en weer gebruiken. Dus ik heb echt echt nodig extern hardschijf maar nog prijzig voor 1TB 😀 en ik spaar voor die ik ook zo graag wil hebben. Hmmmm…lastig he als budget niet veel genoeg dan moet wel kiezen dit of dat 🙄 🙁
En hebben jullie ook die soort probleem? Zo ja Ik ben benieuwd Hoe jullie dat oplossen?