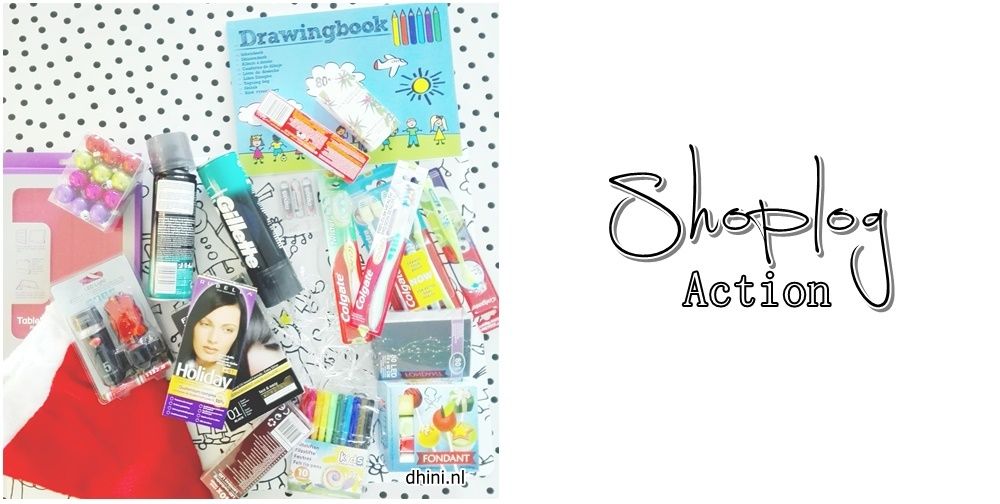 Vorige week zaterdag gingen voor eerste keer naar Action in Sterrenburg centrum. Ik heb een paar wat gekocht en ik vergat een paar nog en bovendien sinterklaas lijst al ingevuld dus wij konden daar in de winkels even rondsnuffelen. Maar gisteren heb ik een paar wat gekocht. hierboven zie je bij elkaar.

Ik heb twee haarverf "Rubella en Fashion professional" gekocht. Ja dringen nodig :blush: Ik ben benieuwd. Een parfum van Emanuel ungaro 30ml, geen tester dus ik weet het nog niet of de geur lekker is of niet. Aantal tandenborstels en pasta voor Djess.
Lampje voor mijn fiets, cream voor Arjo, lampjes en kerst balletjes en stijfjes kleuren. Dan Djess kan lekker kleuren.

kerstmuts, samsung hoesje, boekje voor tekeningen en fondant en groot placemat voor knutselen. Nep kerstboom (niet op foto)
Dat was het dan Action shoplog! Wat heb je afgelopen dagen bij Action gekocht?

Fijne dag en geniet ervan!
Dhini