Ik was opzoek nieuw spijkerjas en ook vestje voor Djess maar nog niet gelukt. En toen ontdek ik een leuke webshop Bestsellershop.com met daarin kan je 5 shops (Jack and Jones, Name it, Vila, Only en Vera Moda) met maar 1 checkout. Handig toch! Daar klikt ik op sale afdelling of great deals en op Name it zag ik een leuke spijkerjas 14.95€ en vestje 12.95€ voor Djess . Ik bestelde gelijk en toen keek ook voor mezelf ..je weet maar nooit er leuk prijs voor mij 😀 En ja hoor… een spijker jas (Only) in de sale voor maar 12€. Ik bestelde op 20 jun en op 22 jun binnen. Toch best snel he!
Benieuwd…wat heb besteld…kijk maar… 😀
Oja… voor Djess heb grote maat besteld beide in maat 86 en voor mij maat XS.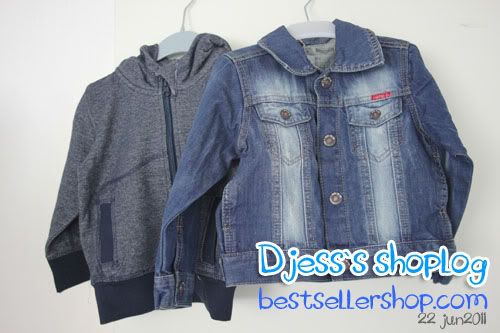 Er zijn nu leuke dingen in de sale dus neem even kijken op bestsellershop.com. Er 3 verschillende betalingsmogelijkheden : creditcards, iDeal of een factuur via de Direct Pay service. Helaas is wel verzendkosten bij €7,95. Dit is een vast bedrag. Dat is minder leuk he…de verzendkosten, vind ik dat.
Ken je al bestsellershop.com? Zo ja …heb je daar ooit besteld?