Als je vaak met je iPhone, smartphone, tablet en E-reader bij de hand, doe je toch voorzichtig om hem niet te vallen. Vandaag ga ik jullie een super duper handig gadget "Sliggrip" laten weten.


Ik heb twee SlingGrip 80's Pink besteld. De sliggrip met smile text erop is een idee van bekende beuatyblogger Serena – BeautyLab.nl en haar zusjes Larissa en Tara verbon – KittehsCupcakes.nl en hun travel website – Travellab.nl.
De achterkant van de Slinggrip is er een 3M dubbelzijdige tape voor de bevestiging. Op hun visitekaart vind je informatie hoe de sliggrip op je mobiels, tablet vastleggen. Heel eenvoudig en na 30 seconden is de sliggrip al goed vastgeplakt.

Ik plak de slinggrip niet op mobiel maar op de hoesje want ik zet liever mijn mobiel in de hoesje (soort wallet hoesje zodat ik de kaarten erin kan doen. Dus het is mogelijk dat de slinggrip op de hoesje kunt geplakt worden. Als je gewoon op je mobiel dat natuurlijk is de bedoeling.

De slinggrip heeft flexibele elastische strip en wat super fijn is dat hij niet in de weg zit als je hem niet gebruikt. Je kunt hem met twee of drie vingers door de elastische strip en het is ook mogelijk met één hand je mobieltje vast te houden.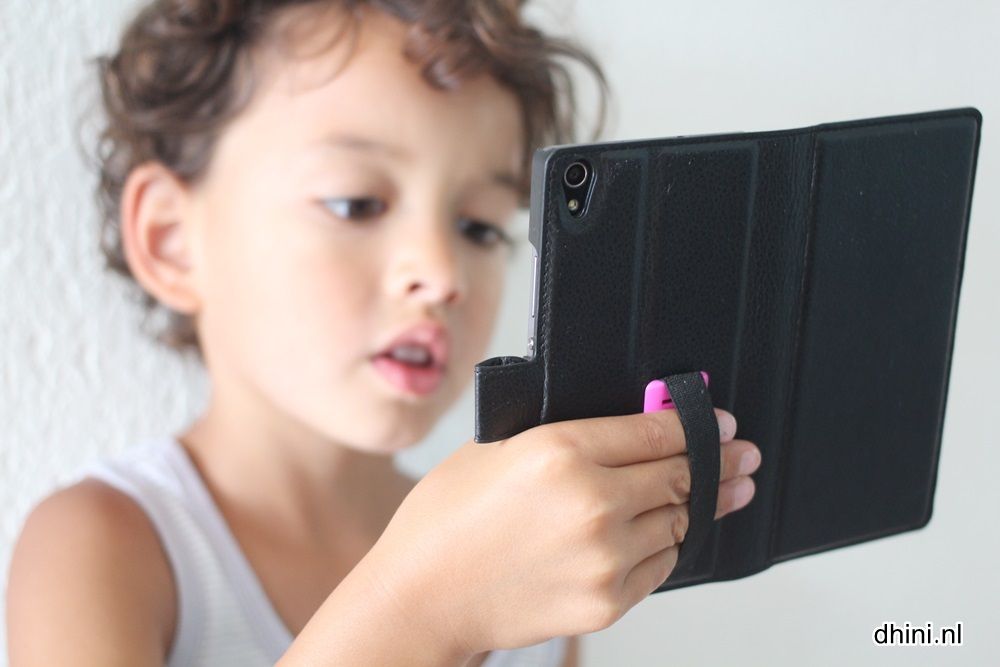 Zoals jullie weten, ben ik gek op foto`s maken en mijn mobiel is altijd bij de hand. Met Sliggrip kan ik de mobiel veilig goed vashouden als ik aan het foto maken. Kortom met sliggrip kunt je extra makkelijk foto`s, video en selfie maken en bovendien veilig. En mijn zoon kan hem heel goed gebruiken als ik aan hem vraag om wat foto`s te maken. Ik hoeft niet bang te zijn dat de mobiel zal vallen, dankzij Sliggrip.
De Sliggrip is er ook in andere kleuren beschikbaar voor een prijs van € 5,95 per stuk. Met "smile" erop is prijs € 6,95 per stuk. Je kunt ook alleen "Tape 3M SlingGrip € 0,75" of "Tape 3M TabletGrip € 0,95 op Sliggrip.nl aanschaffen.

Fijne dag en geniet ervan!
Dhini

Dit artikel bevat product(en) die ik heb ontvangen van een merk of bedrijf.