Myn addiction zijn niet alleen leuke dingen doen, beauty, shopping en meer 😀 maar ook postzegels verzamelen. Hoe ik ben begonnen met postzegels verzamelen?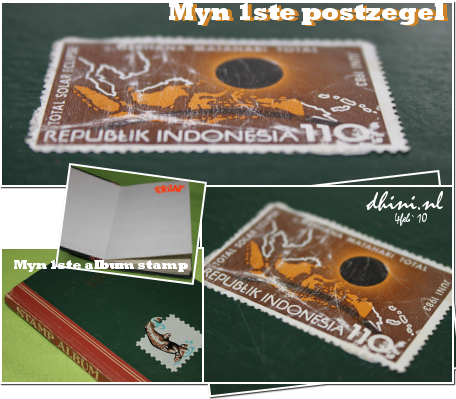 Hierboven is my aller aller…1ste postzegel die ik heb. Ok..ga nu vertellen in de korte verhaal…
Toen ik wist niet wat postzegel is! (was jaren 80 ofzo, geen hoe oud was ik toen). Wij stuurden nooit brieven of kaarten toen die tijd en dus daarom wist ik niet over postzegels. Op een dag zag ik deze postzegel op een evelopje voor myn vader. Zonder te vragen en stiekem gedaan (brutaal he!). Ik haalde die postzegel eraf. Het kan zien de postzegel beschadig. Eigenlijk ben ik bedroef..hij wordt niet mooi meer door verkeerde manier. Dat was de 1ste bericht en ook de laatste bericht (toen).
Vanaf dat moment wil ik meer postzegels hebben :yes: (ben gek op postzegels) :inlove:
Meestal als schoolvakantie bezochten wij myn vader`s broer & zijn familie die in Yogya wonen. Er woonde my oma (moeder van myn vader..wij noemen haar mbah). Daar myn oma heeft eigen kamer. Op de plank zag ik een boek en toen ik opende… :wow: wauw…wat mooie postzegels in de boek en ik wilde het stiekem naar huis meegenomen en ik durfde niet (niet goede manier dacht ik) en dus ligt terug op dezelfde plek
Terug in onze stad Tasikmalaya, danst die mooie postzegel in my hoofd en spijt niet vragen of ik die boek mocht hebben. Dan spaarde ik myn zakgeld om postzegels album te kopen en ben superblij hoewel maar 1 beschadige postzegel erin 😀 Maar ik geloof wel op een dag heb ik veel postzegels :yes:
Dat is my korte verhaal over myn 1ste postzegel.
Er komt nog foto`s van my postzegels verzameling.